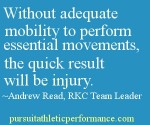 We have been having some fun this week presenting connections between our training philosophies here at Pursuit Athletic Performance and the holistic viewpoints espoused and practiced in the Russian Kettlebell world (RKC). (For the record, when an athlete is ready, kettlebells are one of our favorite training tools.) A key principle of the RKC System is that the body is a linked, interconnected unit and should be trained as such. We could not agree more, and that is how we approach training with every athlete from elite to novice, young to senior.
We and the RKC also agree that the the issue of MOBILITY is the starting point for all athletes.
"Mobility? Huh? What does that have to do with my running or triathlon training?" Athletes ask us this all the time.
Our video here explains why the seemingly elusive concept of mobility, unfamiliar to many, is an essential element you need to possess. In fact, mobility is the FIRST topic addressed with RKC trainees. In his article, Five Reasons the RKC Isn't Just About Kettlebells, " Andrew Read, RKC Team Leader, says, "Stiff and poorly moving rookies must get ready to TRAIN FOR REAL. Without adequate mobility to perform the essential movements, the quick result will be injury."
We explain here why mobility is so important to you, the endurance athlete. You too need it in order to be able to "train for real."