Learn more about Al
(And why he IS the ideal guide for YOUR journey!)
As a guide and mentor, Al's passion and purpose is helping athletes like YOU to move better, feel better, stay healthier, get stronger, and go faster!  
Among the athletes he has helped reach their ultimate potential is 5-time Age-Group Ironman Triathlon World Champion, Lisbeth Kenyon.
Coach Al on the run at the  Hawaii Ironman World Championship
As an athlete himself, in a 40+ year endurance sports journey that began when he started running at 21 to "get in shape," Coach Al has literally done just about every kind of race you can think of and has the t-shirts to prove it!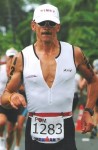 What are only a few of the highlights?
Boston Marathon PR of 2:39:37
50-mile run PR of 7:19
5K PR of 16:20
5-mile PR of 27:33
10K PR of 34:21
20K PR of 1:11:32
Half Marathon PR of 1:17:01
Half Ironman/70.3 PR of 4:29
Multiple finishes at the Vermont 50 Mountain Bike race, the Mount Washington Hill-climb (both the run and bike races), the 24 Hours at The Glen mountain bike race, the Miwok 100K trail race, the Barn Burner 100-mile mountain bike race (a Leadville Qualifier), and the 48-mile

 

Grand Canyon rim to rim to rim run.
A "fun" streak of 19 straight sub-3 hour marathons and more than two dozen total marathon finishes.
After a near-drowning experience at 10-years old, and having never gone into water deeper than waist-deep – at age 36 he was inspired to overcome his fear of the water while watching the television broadcast of the 1995 Ironman with his then 7-year old daughter, Erin. He fought for two years to overcome that fear and learn how to swim, eventually finishing his first Ironman in 1998 at The Great Floridian, exiting the water in 1:19 to his cheering family waiting anxiously.  To this day, Coach Al says overcoming the near-drowning and becoming a swimmer has been "the hardest thing I've ever accomplished."

 

That led to eight more Ironman Triathlon finishes to date (nine total) and a 10:19 PR at Ironman Lake Placid, including three qualifications for, and finishes at the Ironman Triathlon World Championship in Kailua-Kona, Hawaii.
Thanks to the support of his family and many months of work and sacrifice, Coach Al was able to achieve his dream of qualifying for and reaching the Ironman Triathlon World Championship in 2000!
What about you? 
Your time is now. Let's get to it.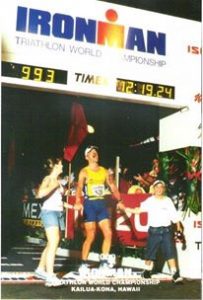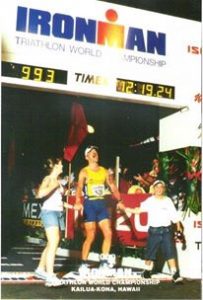 From a young age, Al Lyman took a cue from Walt Whitman when he said, "Be curious, not judgmental."  He has always wondered why some people live a healthy life until death and others suffer from chronic, debilitating illnesses.  As a result, at the tender age of 25 he made a conscious decision to die healthy, a concept he called 'squaring the curve' of life span vs. health span.  Sadly, his Dad's declining health and eventual brain cancer diagnosis that claimed his life at the young age of 65 illuminated this concept, inspiring Al to turn up the volume on his own journey to optimal health.
One day while watching the Hawaii Ironman on TV with his daughter, he impulsively announced, "I'm gonna do the Ironman!"  That monumental decision propelled him to complete nine Ironman triathlons, while proudly displaying his #makehimproud arm tattoo (honoring his father).  During this journey he was approached by other athletes who were drawn to his passion and desire to 'go the distance' for a healthier outcome, and as a result, Al started coaching others toward achieving their dreams and co-owned a gait analysis lab to help others come back from, or avoid, injury. 
Today, Al is known as the Age Optimizer, who helps you "live stronger in your second half." 
He specializes in aging-related health coaching for mature adults determined to beat the 'doctor dance' and take back their lives.  He teaches long-term physical, emotional and mental health techniques to help people over 50 conquer their inner critic.  He personalizes every client's path to wellness and a pain-free lifestyle.  His signature Lyman Longevity Formula, in a few words, helps you spend more time with the ones you love, longer…and #makethemproud. 
Al is the author of Age Well and Feel Great: The Proven Path to Solving the Aging Puzzle and Going the Distance.  He's also the creator of the B.E.A.T. Aging Transformation, a nod to his life as a drummer, and commitment to march to a healthy beat.