Hi Everyone…Coach Al here. I've got an important message for you today, one that is hopeful and empowering and will help you be happier and better in 2017 and beyond!
Back on October 7th of last year, I was at an Entrepreneur Magazine conference in NYC and had the good fortune of hearing some great presentations including one by writer, James Clear. (His articles on behavioral psychology, habit formation, and performance improvement are awesome – check them out!)
Mr. Clear has developed quite a following online because of his often profound and always concise writing.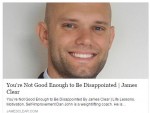 He wrote an article recently entitled "You're Not Good Enough To Be Disappointed."
The article resonated with me and with many others, including some colleagues in the coaching community and some smart introspective athletes I coach. If you missed it, click on the image to the left and read it.
I get frustrated, but that's just me.
The article from Mr. Clear reminded me that one of the things that has always frustrated me, whether it was teaching percussion privately back in the day, or today as a coach, is how quickly people get impatient or discouraged whenever something is "hard" for them, or when they don't get instant results from a little bit of training or work.
I'm also frustrated whenever athletes want to brush over the learning process (essential to improvement and growth, and for me, FUN), so that that they can get to the "really" good stuff, whatever that is.
Now if that sounds harsh or hits home and makes you a bit uncomfortable to read, then you have a choice. You can close the page and check out for now, or you can keep reading and see if there's something here that's worth thinking about. I hope you keep reading.
Now listen, this ISN'T about me, it's about you. I'm here to help you get better.
But at the same time, I have to be honest…
Like every one of you, when I think about how a thing might help me, I go back and relate it to my own experiences. In this case, for me it's my development as a runner. So let's start there:
I ran my first Boston marathon in 1983 as an unofficial runner (aka "back of the packer"), finishing in around 4-hours. The picture you see is from that day, hanging out with some friends right before the start. What an amazing day it was!
I finished, absolutely IN LOVE with running AND with the Boston Marathon. I wanted to come back as a qualified runner, not one that jumped in the back and ran as a scab.
So, I made a huge decision that day, vowing NOT to run another marathon until I was ready to run fast enough to qualify. (No small feat since the men's open qualifying time then was 2:50!).
Four years went by.
Injuries, miles, a lot of reading and study and research, more injuries, and dozens of road races and track sessions later, the time arrived when I believed I was ready to give qualifying a shot. I signed up for the Marine Corp Marathon as my first "official" marathon. Luckily for me, the qualifying standard had been lowered from 2:50 to 3 hours! My 3:01:20 that day in 1987, starting behind 11,000 runners, got me in.
So let me ask, would you or any of your friends take four years, F-O-U-R years… to train and improve, between their first and second marathons?
(Many runners and triathletes are so anxious and impatient, they sign up for their second marathon (or ironman) before the ink is dry on the finisher certificate from the first, without considering what it really will take to improve!).
FIVE YEARS – 22 minutes.
My first "official" Boston (and 2nd official marathon) followed in April, 1988. The image to the left and below is from that race. (Gotta love the fancy painters hat, right?) 🙂
I will admit that when it came to training, my entire focus as a runner was on one thing: How I could run the marathon faster, and the Boston Marathon in particular.
So it was more racing, more injuries, more humbling mistakes and "learning" opportunities. Hell, the things I write about and share today with the athletes I work with, I learned the hard way over those years and the ones that followed.
I trained for 5 years before running the 2:39 at Boston in 1992 that stands today as my PR for the distance.
5 years to improve by 22 minutes.
F-I-V-E years. Twenty-two minutes.
Have you or any of your friends worked relentlessly for 5 straight years, with a laser beam focus on one race, one distance?
Some of the athletes I've worked with look back and like to say I have more talent than they do. I don't believe that. (Do you remember this? "I Don't Care How Talented You Are,")
I have no more talent than you do, but as soon as I crossed the line in Boston in 1983, I knew what I wanted – I LOVED training with a very specific goal. And I LOVE the process. I always have, and I'm sure it comes in part from my life as a musician.
If you're going to reach your true potential, you have to be willing to listen, learn, and work really hard for as long as it takes. And you have to try to avoid being frustrated, mad, or disappointed. It's that simple.
As James Clear (and Dan John) pointed out, the fact is, you haven't worked long enough to be disappointed, frustrated, or discouraged.
It's time to embrace the process and enjoy the journey, my friends.
Just keep learning and working hard. Every day's a new day.
Happy trails!
~Coach Al