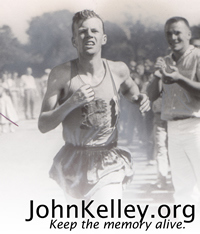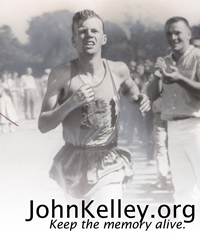 Its rare that I use this Pursuit Athletic Performance blog to share thoughts about someone or something very important to me personally. Well, today is one of those days.
This Sunday, September 21, a bronze statue of the great John J. Kelley will be unveiled at its permanent location in downtown Mystic, Connecticut.
Well known running writer, Tony Reavis, wrote a blog post marking the unveiling of the statue, and recalled conversations he had with Kell over the years. Its a really nice remembrance of this great man and champion. Also, for more information you can check out the local newspaper's online story of the statue dedication of Kell and his beloved dog, Brutus here.
"Kell," as so many knew him by, was truly one of the great American runners of all time. Winner of the 1957 Boston Marathon, he was also a 2x Olympian. Certainly as important, he was as kind and gentle a man as you'll ever find. A running poet and philosopher in the truest sense of the words, I considered he and his wonderful wife Jessie (who is also no longer with us), good and dear friends.
In my early years as a runner, like many others in our region, I looked up in complete awe at "Mr. Kelley" (not a title he ever really embraced as he was so friendly, informal, humble with everyone he met) and all that he had accomplished as a runner. I always enjoyed and looked forward to visiting his running shoe store, Kelley's Pace (which he and wife Jessie owned), stopping by even when I didn't "need" new shoes, in hopes that he might have a few minutes to chat. He always did.
I had a burning desire in me to get faster and improve. In large part because of Kell, the Boston Marathon became the MOST important race to me through those years. But it never mattered to Kell if you were the fastest runner in town or the very last finisher at the local 5k, or even if you were a runner at all. He always had time and a smile for any person he came into contact with, whether in the store, out on the trail, or driving the taxi that took up time in his later years. He always shared freely of himself in every way a man can. He truly cared about others in a way that can't be faked.
I remember once, almost like it was yesterday, when I sat at the Kelley's kitchen table in their modest home in Mystic, to tell Johnny that I was venturing into the triathlon world with the goal of getting to Kona and the Ironman World Championships. He was so jazzed by that! He too had struggled with swimming when he was a youngster, and sincerely wanted to know more about how and why I was doing what I was doing. He asked me qualifying and training questions; we talked many times, sharing our fears and struggles and talking about how a sport like running or triathlon, can really empower a person to grow in deeply personal ways. To Kell, though he was a fierce competitor out on the roads in his prime, running was much more about LIFE and people and friends, and just the JOY OF RUNNING, than it ever was about winning medals or races.
Kell always had a way of making you feel more important and validated, in some way. It may sound strange, I don't know. What I think I'm trying to say is that I always came away from time spent with Kell feeling BETTER about myself. He had a way of just making you feel good, making you smile. Time spent around Kell made you happy to be a runner, to be alive. I still miss him so much for those reasons alone, and so many others.
Unfortunately I won't be able to be there at 1pm for the dedication, joining past Boston champions and so many other great friends from the running community in southeastern Connecticut. It IS fitting why I won't be there, though: I'll be running a 50k trail race up in Chesterfield, New Hampshire.
I think were Kell alive, he'd surely tell me to "go run the race, Al!" "Geez, come on now." "Go run, Al, GO RUN!"
Yup, that is exactly what he'd say.
I'll be running on Sunday for you, Kell.
~Coach Al
If you live anywhere in the local southeastern Connecticut area, come on out to honor the man. From the John J. Kelley Memorial Fund website:
The statue will be unveiled and dedicated at the park-let on Baptist Hill in Downtown Mystic, near Mystic Pizza (56 West Main Street, Mystic, CT), with a reception will follow at the Mystic Arts Center (walking distance from the statue) on Sunday, September 21, 2014 at 1PM.