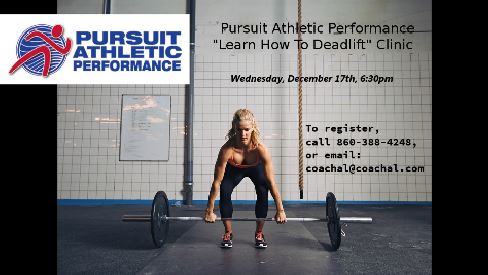 The basic barbell deadlift is arguably the single BEST exercise you can do to build total body strength.
Back, legs, shoulders, hips, arms, and glutes – you hit them all with this powerhouse of an exercise.
The challenge is knowing how to do it safely.
Come join us for a FREE "Learn How To Deadlift" clinic on Wednesday, December 17th, at 6:30pm, where you will learn the basic skills required to perform a barbell (or kettlebell) deadlift.
No experience of any kind is required. Novices, do NOT BE intimidated – this clinic is for you!
To register, call the Pursuit Training Center at 860-388-4248, or email: coachal@coachal.com
SPACE IS LIMITED to 20, so don't wait. No walk-ins – in order to attend, you MUST email or call to register!
I hope to see you there!
~Coach Al