Regardless WHY You're Here –

You Are

In The Right Place. 
Hi there and welcome!  I'm glad you're here. Whether you're just starting out on your own exercise journey and want to be sure to do it in the right way, OR…
…you've experienced an injury that has left you frustrated and wanting to make sure it doesn't happen again, you are in the right place!
This program, simply put, is the ideal starting point to establish a balanced, healthy, foundation…for optimal human movement, whether your goal is to participate in sport or simply enjoy life's daily challenges and fun adventures. 
Regardless of what brought you here to this program AND to this page, you're in the right place. This CAN BE the start to a NEW beginning – a happier and healthier athlete starts with a solid, strong, stable foundation!
A Quick Story that Has Relevance for Our Journey Together…
I'm sure it showed up first as a tiny brownish stain on the ceiling. More than likely, it wasn't even noticeable for the previous owners. 
On a really rainy day, it might have led to a small leak – some drops of water making their way through the ceiling and onto the floor. 
Tiny, seemingly innocuous roof leaks, are like that. At first appearance, they seem mostly harmless. Just something that can happen, but not any real cause for concern. Until they fester. And like a cancer, they grow…and get larger. And soon become a major problem. 
Want an example? Check out the ceiling in my lanai from back in May 2018. That's a HOLE in the ceiling! I knew the roof would eventually need to be replaced when I bought this home in December 2016.
What I didn't know, was a few months later, I'd be woken up in the middle of the night by the CRASHING sound of collapsing sheetrock! It scared the living crap out of me, let me tell ya. Yikes.
The picture to the right? Debris from the collapsed ceiling and insulation. Trust me, these aren't the worst of the pictures. It was ugly.
So, why am I sharing this with you?
As you follow down the menu on the left, make sure to take time to WATCH the video on the Durability-Training "Quartet." That will give you good additional insight into how to approach this program. AND how to maximize all of the potential benefits!
Refer to the menu to the left for more information. Keep going!
Chronic nagging pain or an injury is like a tiny leak…
They always start as a little "tweak" or some other seemingly harmless "sensation." And if we don't pay attention and do something to address it, head-on, the long-term potential of it to turn into a bigger problem that robs us of the opportunity to experience life to its fullest, increases exponentially.
I call it the controllable (or avoidable) injury journey.  And I've seen it happen more times than I can recall, unfortunately. 
A leaky roof, just like a minor "tweak" you might feel when you're exercising, doesn't have to end in catastrophic failure. And weeks or months of rehab.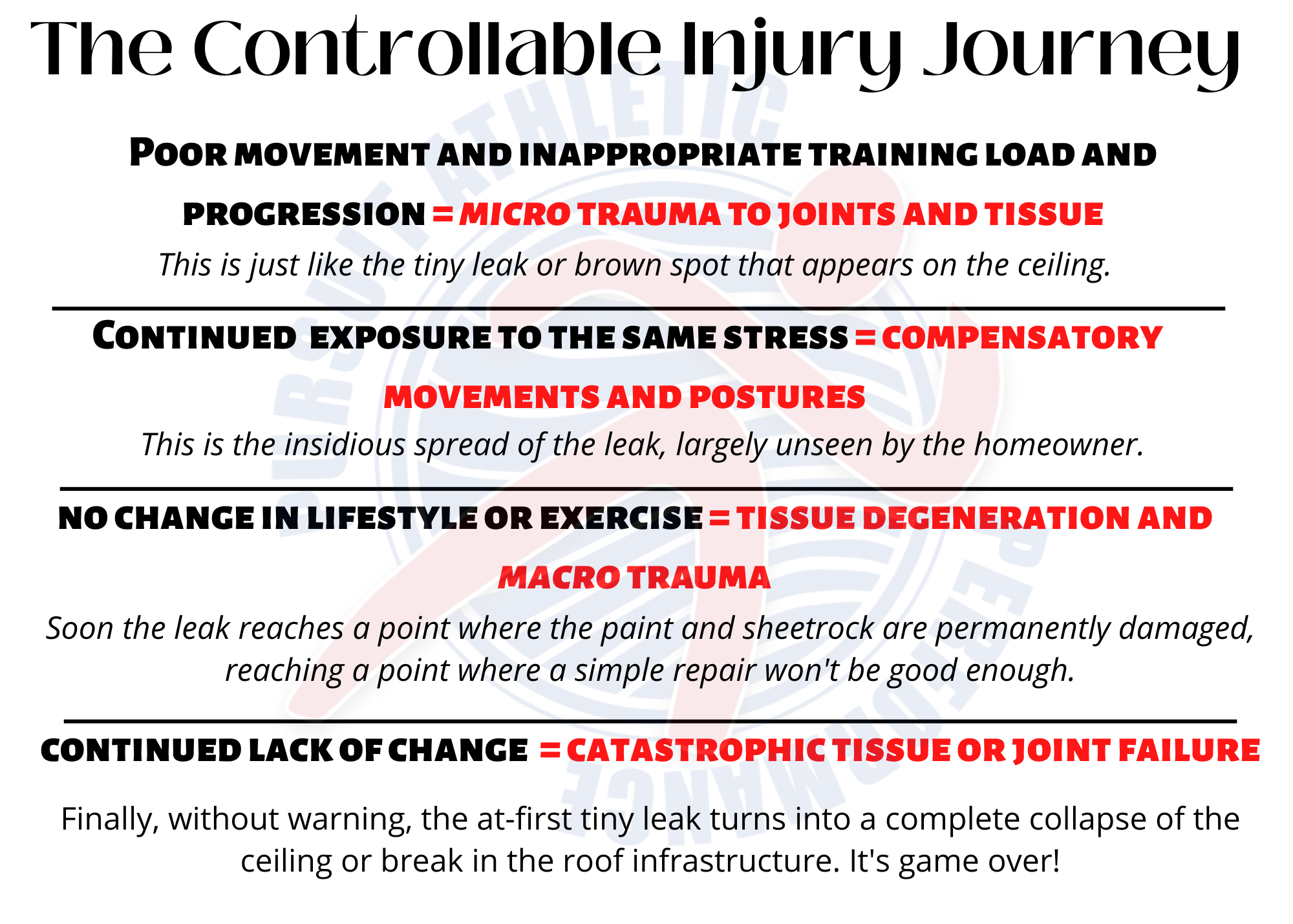 If you can place yourself anywhere in the above "journey," from microtrauma to compensatory movement to tissue degeneration (and so on), there's no better time than NOW, to stop the leak and turn things around. 
So, regardless of WHY you are here – you're in the right place.
This program in and of itself, might not completely arrest an injury or put you on the permanent path toward durability, but….
….you absolutely WILL make progress. You'll be challenged and energized, and you'll learn more about what it means to move well – and get started on a path to a stronger, more resilient, smarter you. Guaranteed.
Make sure you have the equipment you need, and then keep going to the next section.
Good luck with your exercise program and remember, keep going! Don't give in or give up on yourself. You can do it!