Want Me To Help You Reverse The Impact Of Aging On Your Body?
…Without Needing To Exercise Around The Clock, Give Up Every Food You Enjoy,
Or Spend Hours Searching For Answers About What Works For Your Body And Your Age?
If so,
you're not alone.
As a matter of fact, virtually every person I've ever spoken to about this says the same thing.  They're confused and not sure what to do or how to do it, or even who to listen to.
Well, of course, they're confused. How could they not be?
After all, today it seems every "expert" or book has a different idea about what to do to slow aging and look and feel better in the process, you know? And then there are all of the companies selling every possible product to "fix" an issue overnight. Ugh.
All of it, when you're already busy and it feels like you've heard it all, the last thing you need is more confusing information.
I get it. It's easy to become apathetic. Most of us don't have the time to read through all the science or even the desire to figure it out on our own. Worst of all, the folks I've spoken with often say they're frustrated, and wonder whether any of it really even matters in the end.
Makes sense, right?
Well, I've been there. I do get it. It's why I wrote the book. Luckily, I've discovered the solutions to these problems and created a complete program to help you actually achieve your dreams of a healthy life right up until your last day.
I've spent my lifetime finding out what works and what matters the most – how and when to eat, how to manage stress, how to optimize sleep, and what kind of exercise to do. I've done the research. I've experimented, failed, and learned some more, and ultimately, wrote the book to share what I learned so that YOU too can age well and feel great.
Now obviously, that's all easier said than done, right? It isn't about reading a book and hoping for change or for things to improve.
That's why I created my 12-Week B.E.A.T. Aging Transformation.
B.E.A.T. is an acronym that describes the program journey:
Belief: when you believe in yourself and the possibilities, the sky is the limit!

Encouragement: when you receive genuine encouragement from someone who truly cares and learn how to encourage yourself, you will feel empowered to keep growing and changing for the better!

Accountability: we all benefit from accountability, not only to someone else who cares but also to ourselves. This is essential for change to happen.

Take Action: when you believe, feel encouraged, are accountable, you are ready to take action and make it happen! I believe in you!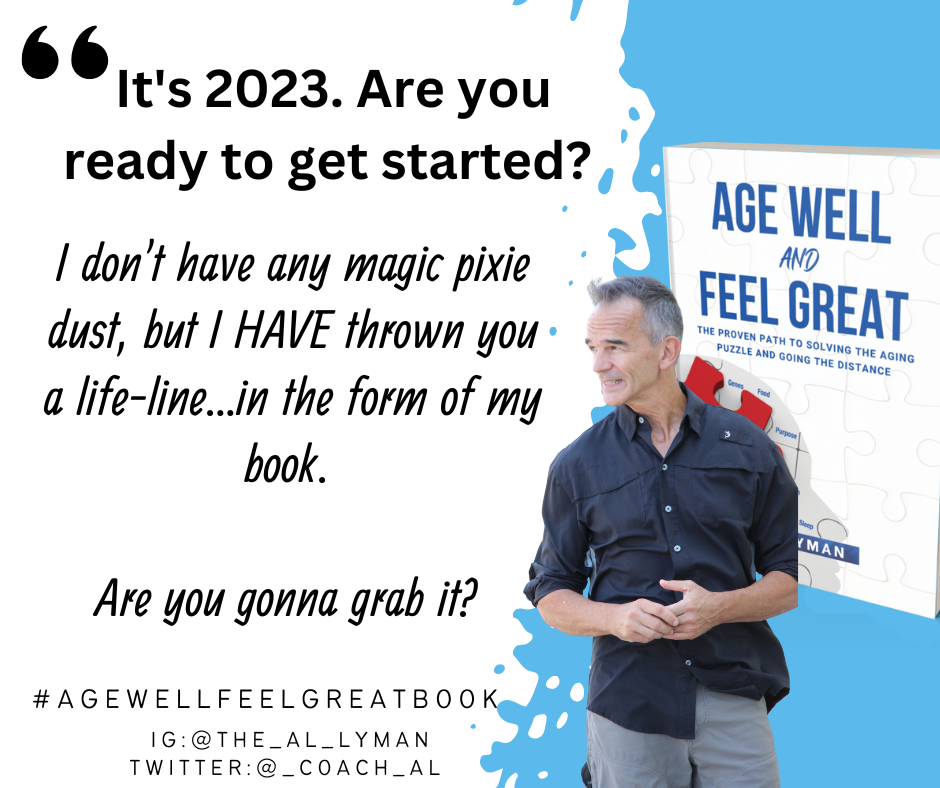 I believe in you. Your time is now.
Remember, knowledge and information alone don't cause change.
The only things that cause change are accountability, measurability, and encouragement from a support group, including a coach, who truly cares!
So, what is the B.E.A.T. Aging Transformation: Belief-Encouragement-Accountability-TakeAction coaching program?
To briefly summarize…
This is a 12-week 1 on 1 coaching program to help transform YOU into a happier, healthier human being capable of "squaring the curve" and living your best life right up until your last day.
The 5 pillars of the BEAT AGING framework are:
1. Mindset – 2. Movement – 3. Food – 4. Rejuvenation – 5. Reflection
This is a premium coaching program with limited availability that will be for those who are fully committed to becoming healthier and happier for an improved healthspan and lengthened lifespan.
The 1 on 1 coaching is a combination of this and much more:
1. Private lifetime access to the B.E.A.T. Aging online program portal, with daily and weekly self-guided learning modules with both video and written support…
2. Daily email, text, and video encouragement and support directly from me, your personal coach…
3. Weekly 1 on 1 coaching calls with me, where we can talk about your progress so I can answer any questions you have, and MUCH more…
…including a comprehensive welcome package, full software support, product discounts with companies like Inside Tracker, a journal for recording your progress…
…as well as specific exercise guidance and access to all learning online so you can access it when you need and want to, and of course, unlimited email and text communication with me during our 12 weeks together…
This is definitely NOT a one-size-fits-all program.
We'll work together to design the best 12-week program for YOU, that works with your life and your schedule so that you get the most from it.
Make no mistake about it, I will be honest with you – I will tell you the truth about what works and what doesn't. And I'll give you everything I've got.
Simply put, there are very few coaches on the planet that have my combination of experience, and expertise, and who have lived every aspect of what it means to be healthy, the way I have. I am the perfect guide to help someone take control of their health for an improved healthspan.
What kind of results can you expect from this coaching transformation?
For starters, you will…
Feel younger, happier, and more in control of your life!

Be more optimistic about the aging journey – with an increased belief you can "die healthy."

Be more empowered and enthusiastic to make better choices every day.

Lose somewhere between 5 to 20 lbs. of body fat, depending on your starting point.

Have more energy throughout the day.

Experience better quality and more consistent sleep patterns.

Be stronger, more mobile, with less pain and discomfort.

Experience less guesswork, and more confidence and knowledge in these areas especially: food, exercise, and your environment.
If you're interested in learning more, let's hop onto a quick call to see if my B.E.A.T. Aging Transformation is right for you.
Just click on the orange button to book a time that works for you.
During the call, we'll look at how I can help you get started on a path to intentional aging and optimal health. We'll discuss what your best next steps are if you decide to pursue this strategy.
Spots ARE limited. There's zero obligation to work with me by making the call. But you owe it to yourself and your loved ones to make the most of the second half of your life, right? This decision to take this first step might well be the most important decision of the rest of your life.
I look forward to speaking with you!