Create your
FREE

Trial Membership Today!
Be our guest for 7 days. No strings attached.
With Your Trial Membership You'll Get:
An opportunity to speak with Coach Al to help you plan your training, discuss your history of injuries, and develop strategies to keep you healthy and training strong.
Access to our Members Only content designed to help you achieve fitness and sport goals. Want to feel younger and move better? Want to get faster? Check.  Looking to prevent injuries? Yup. Ready to improve your swim stroke, running technique, or overall strength? We've got you covered.  Plus our exclusive Road Map to Nutrition Success will pave the way to your best racing season ever!
At the end of your 7 Day Free Trial:
Choose to stay and you'll become part of the world's best training team for just $79/month. All the benefits of hiring a personal coach at a fraction of the cost!
There is no contract, you may cancel at any time.
You'll have access to our complete library of sport-specific training plans for athletes of

all abilities

. You'll get Sprint Tri to Iron Distance and 5k to Ultra. (YES, these are the same plans that helped Pursuit Athlete LIS KENYON to win her Age-Group at the Ironman World Championships at Kona- 5 TIMES!)
PLUS, you'll get our proprietary training programs to improve movement quality, stability, mobility, and strength. Build health and fitness for a lifetime! There's also our athletes-only forum, discounts on training camps, events, and Virtual Gait Analysis... and so much more!
If you don't agree that Team Pursuit is the perfect fit for you, simply cancel your membership.  No questions asked.
About OUR Triathlon Training Team
Training

If you are a runner or triathlete, Pursuit Athletic Performance provides effective, time-efficient training programs for the beginner, intermediate or advanced athlete at any distance–sprint, Olympic, Half Ironman, and Ironman. But you DON'T have to have a specific sport focus to reap the benefits of membership. 

Gait Analysis Option

If you choose to have a gait analysis we guarantee it will go far beyond being a "cool experience" that then gathers dust on a shelf. We teach you how to integrate those findings into a training program that explodes your performance! We guide you every step of the way.

Training Plans

Our training plans are completely customizable to accommodate a wide variety of abilities and race goals. PAP training is highly precise as it moves you through specific periods of training from the off-season to pre- to in-season.

Our phases are:
Restoration and Foundation
GET FAST!
TAKE OFF!

Regular testing and metrics are utilized and tracked, allowing you to customize every workout for maximum results. This is not one-size-fits-all training.

ROI (Return on Investment)

ROI is central to our training. Our plans work.

You will not be filling your days with time-sinking, body-breaking, unnecessary volume.

We value your membership and trust, and know that your time and money is an investment in your goals and dreams. To honor that, we promise you nothing but the best advice, service, and support.

Athlete Forum

A lively, engaging, and supportive community introduces you to like-minded, smart, enlightened athletes who know this is the way to peak performance.

Our member-only forum provides advice, motivation and camaraderie to each athlete. Coach Al is in there, talking, advising, and interacting with athletes every day. There's a lot of coach interaction going on in there, all for a fraction of the price of 1:1 coaching!

Training Plans and Support Videos

Training plans are delivered through TrainingPeaks, the very best plan delivery system around. The plans are supported by focused instructional videos, accompanying text documents, and regular, live training sessions with Coach Al.

When you have questions, just ask the coaches or your teammates in the forum for guidance and advice. Help and guidance is at your fingertips, 24/7.

The Team

We promise not to bury you in a team of faceless athletes with random and occasional coach access.

While this is not 1:1 coaching, by keeping the team a manageable size, Coach Al and other highly-experienced athletes trained by him, will be on hand to guide you through all phases of training. When the team is full, the doors are closed!

Coach Access and Support

Accessibility, knowledge, education, and support are the keys of the Pursuit Team.

We host regular live chats and videocasts to which you will have unlimited access.

We will gather your questions and concerns and turn Coach Al loose to help you. Special guest experts from the world of mountain biking, ultrarunning, functional strength training, sports medicine and more are featured as well.

Resources

Coach Al is a treasure trove of athletic and sports medicine information. He coaches and advises world champions athletes as well as beginners. The quality and breadth of his experience and knowledge, combined with the other experienced athletes on the team, is exceptional. Combined with a sincere desire to help, you will be hard pressed to find this kind of support anywhere else online.

An online database of articles, blog posts, and videos is available to all members.
WANT TO LEARN MORE?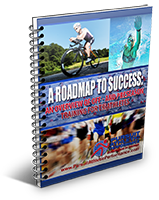 Click here for an abridged version of our team book, A Roadmap To Success: An Overview of Off and Pre-Season Training with Pursuit Athletic Performance. Read how we set your foundation, get you FAST, then allow you to TAKE OFF! See sample weeks of training! The full version of the book is given to each member of the team. See the our training in action through the words and results of our athletes.
Long Term vs. Short Term Success
WE DEFINE LONG TERM SUCCESS AS:
Consistent Improvements in Durability: Being resistant to injury will allow you to continue training, enjoy the sport and continue to improve. You can't train when you are injured.

Maintenance and Sustainability: Maintenance and sustainability of optimal health and youthfulness. You will not exchange good health for "fitness." Good health is synonymous with fitness, not something you have to give up and exchange for fitness and speed.

Consistent Improvements in Movement Quality: Consistent improvements in movement quality and overall athleticism, which will help ensure you have the opportunity for continued improvement.

Consistent improvements in swim, bike, and run SPEED!

An optimal balance of body, mind, and spirit, and the triangle of life: family/ work/sport. Maintaining and enhancing balance will ensure a happier, more satisfied, and ultimately YOU!
Sign me up now for my free trial, please!
The first 7 days are totally FREE. After your free trial expires your credit card will be charged $79 USD per month for each month you elect to maintain your Team membership.
*Please note that we encourage you to use your real name within this social community. The preferred layout is 'John Doe'. If you use something other than your real name a moderator may change your username.

PLEASE WATCH YOUR EMAIL FOR CONFIRMATION, YOUR LOG IN CREDENTIALS...plus additional instructions. The email should arrive within a few minutes.
*There is no minimum commitment. You may cancel your monthly auto-renewing membership at any time; your membership will expire 30 days from the last payment. Any amounts paid prior to your cancellation will not be refunded.
Train and Race Now as you Never Have Before!