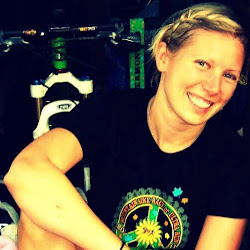 Hello Everyone!
One of the ultrarunners in the Pursuit Athletic Performance family is Carly Stroich-Eisley. Last weekend, Carly took on the Vermont 50 ultra run. While I hope to be able to share her race report soon, I had to share her recovery check-in only three days post race. Read her words and know this is how recovery is supposed to be! A real testimony to the power of BEING STRONG.
In years past, before our training together, Carly would have carried injury and pain from an effort like this for weeks on end. Instead, she knocked it out of the park. This is how an athlete who is strong, stable, balanced and durable is able to crank out year after year of performance without breaking down.
How does she feel so good after a race of 50 miles through the mountains of Vermont?
Many of you know my coaching philosophy is based upon restoring authentic movement and building a base of balanced strength from the ground up so that athletes can train and race to their true potential.
You simply cannot train and race to your ultimate best with a body that is unbalanced, weak, and broken.
Cultivating speed and outstanding personal performance is what we expect all our athletes to be able to achieve--and they do. By rebuilding the athlete's body from the inside out-- so that it is injury resistant, durable, and able to withstand more training load--we create the perfect confluence where fulfillment in sport and personal happiness is greatly enhanced. Carly is a great example of just that.
Thanks, Carly! You have a great and bright future ahead of you!
From Carly:
I am amazed at how well I was able to do in the Vermont 50, and how well I am recovering given the amount of training time I really had for this! I am walking normally, quads feel much better and I can get up and down steps and from a sitting position with no trouble today. Just had the normal post-race soreness which is mostly gone, no real pain anywhere. My right calf and Achilles were tight, lightly massaged and stretched it and feeling much better there too.
I stopped and thought about it the other day, after the race... I essentially had no quality running whatsoever from the end of March until July (and the quality of my running before that is very debatable...) And I was able to bust out the Vermont 50! And in a fairly respectable time. Insane!!
Strength training rocks!!
I can't wait to see how I can do with additional time to train and prepare. 🙂