Hello Everyone!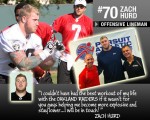 We have a special treat for you today! One of our clients is Oakland Raiders Offensive Lineman, Zach Hurd. GREAT guy and a GREAT athlete!
Zach helped me out with this follow-up to our blog post, Why Being Stable Is SO Important, And Tips to Train It. In that video I talk you through why being a STABLE, as well as a strong, athlete is so important. Today, Zach and I show you an exercise that is very effective in helping to train stability in an isometric fashion.
Take the time to learn why stability is so important for you as an athlete, whether you are in the NFL or a 5K specialist. Here is another of our posts on the topic that will be helpful for you to read--What You Don't Know About the Core Can Hurt You. Stability really is the fundamental basis for your ultimate performance potential no matter your sport. All your hopes, dreams, and goals for training and racing rely on a stable core.
Work this exercise into your routine. If an NFL Lineman is doing it, shouldn't you be too?
Happy training!
Coach Al