Welcome back Zach!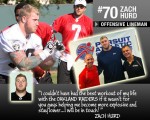 Our client, Zach Hurd--an outstanding young man and exceptional athlete--recently signed with the Oakland Raiders! We were so pleased to hear from him through our Facebook page, and learn that he will soon be returning to work with us again, now that his season is over.
Said Zach, Can't wait to be back in town so we can get started training for the 2012 season. Had a great finish to this years season and I couldn't have done it without you guys. See you soon!
Zach did amazing work with us here at Pursuit Athletic Performance, and he is a GREAT guy to work with! An NFL offensive lineman, no doubt, has to be strong (now there's the understatement of the day). But he understands the power of becoming truly functionally strong and balanced in all the right ways to prepare his body for the rigors of professional football.
When Zach first joined the Raiders he told us, "I couldn't have had the best workout of my life with the Oakland Raiders if it wasn't for you guys helping me become more explosive and stay lower... With the same methodology, we train runners, triathletes, cyclists and other athletes--of all levels--to excel in their specific sport by helping them regain authentic movement and eliminate compensations, dysfunction, and imbalances. Zach unleashed his true potential, and you can too.
We look forward to helping Zach become an even more powerful, explosive, and agile professional NFL player!