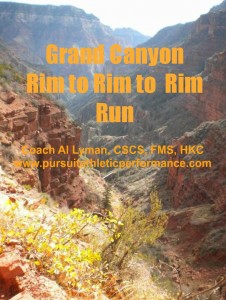 THIS WAS THE MOMENT that we'd anticipated so many weeks ago. That moment when we'd be truly tested. This sort of suffering is what many endurance athletes, including me, enjoy in a bizarre sort of way. ~Coach Al

On November 16, 2012, our intrepid coach, Al Lyman, took on the 46-mile ultrarunning legendary challenge, The Grand Canyon Rim to Rim to Rim Run. The experience was truly epic for him--as is his race report! It's such a cool story and incredible adventure, we made it into an ebook for your convenience. You can access a FREE direct download by clicking here or on the cover image.
Here are some excerpts from the book. There are lots of training tips and lessons learned applicable to all endurance athletes. And if you know Coach, you know it's all tremednously valuable information on how he trained, lessons learned, and a good dose of uplifting inspiration.

On Timing The Last Long Run:
In my opinion, many marathoners and ultra-runners routinely make the mistake of running their last long run, way too close to their event day. Nearly 20 years ago, first through reading some intriguing research and then by way of personal practice, I learned that if I left at least 4, if not 5 weeks, from the day of that last long run until event day, I'd be more "healed" from that long training run and have a better chance for success on race day as a result. Most runners make this mistake for two reasons: following poorly conceived training plans written by folks who don't know any better, and/or a lack of confidence stemming from a belief that the body will "forget" how to go long. It doesn't.

Coach Al's Philosophy on Approaching the Training:
We all have a philosophy - a belief system - that guides our actions and our thoughts. Every single day, in one way or another, we express our philosophy to the world and people around us, either with the words we use or the actions we take, or don't take.
The approach I took to prepare for this run reflected MY philosophy. This is what I believe. In my mind, I accepted that the ONLY chance I had to be able to finish this run and remain healthy preparing for it was to approach it this way. As I considered the consequences of being wrong I got more excited! I absolutely LOVED the pressure and challenge of seeing what would happen.

The Actual Training and Preparation With A Major Focus on Strength:
My intent and goals were clear. Get as strong as I could, progress my long runs making them gradually more like the Canyon run would be, and be sure to show up as rested and ready as possible on the day, using every "trick" I'd learned over many years of training and racing, to help me get ready.
As I envisioned and planned a training strategy moving forward, the center piece - the focal point of my training, was enhancing strength. NOT the 'rehab' or "muscle confusion" BS type of strength. Real strength. I'd focus on a few key exercises which I know are so important for the abilities I would need, and really work them (on a foundation of solid high quality movement, of course!)
I knew it was the only way I'd be able to handle the increase in running miles and ultimately achieve success on the day. I had no trouble convincing my training partner Tim that the same held true for him. So, he joined me 1x per week in our Lab for 1-2 hr strength sessions where I guided him in a progressive program I designed to enhance our strength. We also, naturally, worked on proprioception and balance (to handle the undulations and knarly, loose rock trail), eccentric strength and resilience (to handle the unending downhill we'd encounter), and just plain old total body strength, especially legs, hips, glutes (to enhance our ability to power the steep ups on the trail and handle the extra weight of the pack, knowing we were going to be out there for hours). I enjoyed those sessions and I know Tim did too.
Lots More!
Tons more good stuff in the ebook including a look at what Al would have done differently, as well as nutrition, and a great section on "What Did I Learn?" Enjoy!