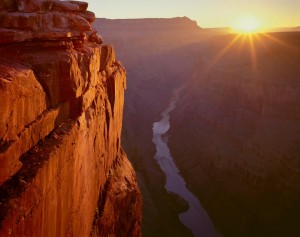 Hey Everyone,
I went for my first run today 9 days after the 47mi, 20k up/down, Grand Canyon Rim to Rim to Rim run.....
I thought I'd share some thoughts on this period and hope it helps you as you come back or return into your own training regimen following a big event day....
Healing (deep and complete healing at the cellular level) after a gargantuan run like this was, takes as much as 4-6 wks. We hate that this is true, but it is. We wish it was faster, but it aint, generally speaking. Wink So, at the very least, I knew it was going to be smart to at least take 1 week off of NO running following the run. 9 days was about right, at a minimum.
What DID I do over the last 9 days?
1. I didn't do any deep static stretching of any kind, except for the hip flexors (the routine stretch everyone needs to do)......the reason being, when deep healing is going on in the body, particularly the legs, that isn't the time to try and lengthen muscle tissue and "stretch" it out. We often make the mistake of trying to "stretch" an area that is injured - and that often IS a mistake. That often will tear tissue which is already somewhat compromised.
2. I DID do very light active "movements" (which could be considered active stretching) after a hot shower or warm bath and some work with the foam roller (self myofascial therapy), to help my body be as pliable as possible. Light activity enhances blood flow, which in turn helps the body flush waste products associated with healing and inflammation. It also feels good!
3. I DID reset the "hard drive," so to speak......what I mean is, some very basic ab-brace and foundational core stability work, to help restore some of that basic stability that can be lost during a period of hard training or in the course of one very hard day.
4. Over the course of the first week, I did some light strength work, primarily to get the glutes firing and the hip musculature working as it should be. I think of this as integration and balance restoration. Returning the body to some balanced length and strength, front and back, in and out.
5. The first "harder" training day I had was this past weekend, and it WASN'T a run, it was a strength training session. I went back to the foundational exercises - the KEY movements that were so important for my build into R2R2R, but I backed way off of the load and focused on re-mastery of the movements, with only moderate load. I re-learned them, so to speak. Just tried to move WELL, and feel GOOD.
6. I DID go for a mountain bike ride on Saturday (1 week after).....a generally easy ride over not too technical terrain. I enjoyed it!
7. And lastly, generally speaking....I just MOVED, walked, slept in a bit....allowed my body the time to actively recover and restore some good feelings. This was important simply because it was a gargantuan effort to finish the run - it certainly took a toll.
Restoring balance, actively recovering in every OTHER way besides running, resisting any temptation to go run, especially prior to getting back to strength work.... working on the most basic kinds of stability and mobility, light (not harsh or aggressive) stretching, and self myofascial work.......this was the focus.
Strength before running. Restoration of some balance before running. Listening to my body.
Is that what you would have done? Keep it in mind for when you're recovering from a similar effort!
Hope that helps....
~Coach Al