Q: What do Haiti, the Badwater Ultramarathon, and Pursuit Athletic Performance have in common?
A: Jason Rita
Jason Rita, an accomplished ultra-distance marathoner and long distance adventure racer is a client and good friend of ours who does extraordinary things.
Starting today, Jason is competing in the Badwater Ultramarathon, the most demanding and extreme running race offered anywhere on the planet. Badwater begins at 280 feet below sea level going through Death Valley with temperatures hovering around 130 F. The race covers 135 miles with climbs totaling 13,000 ft of vertical ascent over three mountain ranges culminating with a finish at the top of Mt. Whitney at 8300 ft. As Jason takes on this beast of a race, our own Coach Al will be by his side as one of the support crew. In fact, he began his race prep here at Pursuit Athletic Performance. You can watch the video here.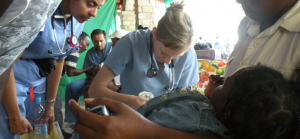 Jason and Pursuit are also teaming up to raise awareness and funds for Haiti's isolated Bainet community. For every Gait Analysis purchased from July 15 to Aug 15, we will donate 15% of the proceeds to the Delaware Medical Relief Team, the agency fighting the effects of "bad water," including cholera in Bainet.
With the economic challenges facing the western world, it is easy forget that the 2010 earthquake killed over 250,000 people in Haiti, displacing many more, and caused tremendous health challenges. In response, Jason and his wife created a non-profit, 501c3 called Delaware Medical Relief Team (DMRT).
DMRT immediately responded to the crisis by sending to Haiti eight medical teams, hundreds of volunteers, and raising hundreds of thousands of dollars used for medical aid and supplies.
At that time with the spotlight on Haiti, governments around the world made huge promises. As these countries' economic challenges worsened, they failed to deliver promised money, infrastructure, and aid. In response, Jason and DMRT are once again picking up the call to action, and Pursuit Athletic Performance is backing the cause.
The goal is to help the isolated community, Bainet in its health struggles with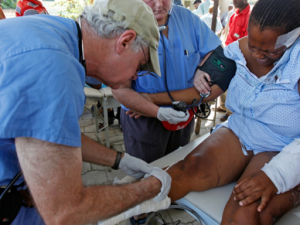 the consequences of bad water. DMRT has committed to working with the local health clinic to transform it into a functioning hospital.
In addition, we are planning a marathon from the ocean-side port town of Jackmal to Bainet! Our plan is to use the event to help Bainet in three major ways: as an incentive to local authorities to rebuild infrastructure, an event that will create a recurring source of revenue, and a way to raise additional aid.
If you are interested in supporting this marathon initiative in ANY WAY... whether it be marathon participation to various levels of support, please use leave your information on our interest form, and we'll be in touch!
Help us help Jason and Haiti - donate today directly at the Delaware Medical Relief Team web site, or purchase a Gait Analysis. Either way, you will be pursuing--and doing--something great!
###
Learn more ...