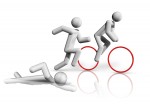 Sprint: I Want the Podium!
This challenging plan will test your mettle, but if it's the podium you're after then this is your blueprint!  Motto: See what you're made of and suffer with a smile.
This plan is 6 weeks in duration and was designed by Coach Al.  It represents the latest in scientific theory regarding the optimal way to train for a sprint triathlon, while also reflecting many years of practical experience. This plan is ideal for YOU if you want to go fast and raise your fitness to a personal-best type performance. The training hours required aren't very large, but they are demanding. Each week of training includes 5 to 10 hours per week of total training hours, composed of 2 to 4 swim sessions,  3 to 4 bike and run, as well as race specific "brick" sessions and a "race-day simulation" session. The plan, while challenging, is reasonable and includes specific guidance for recovery. Expect to work hard, but also recover hard, in a smart way. You are going to have fun AND get fit with this plan!
As a special BONUS, each plan comes with a 30-page TRAINING GUIDE for you.  You'll get tips on race fueling, daily eating, equipment, race day execution, mental training strategies, and much much more!
Here's what a sample week from the plan looks like in "Training Peaks":