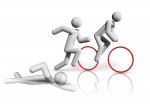 Sprint: Please Hold My Hand!
This is the ideal plan for the first-timer or any athlete who's coming off an injury.  This is simple, straightforward and conservative.  Motto: Finish the race with a smile on your face!
This plan is 6 weeks in duration and was designed by Coach Al.  This is your ideal entry level plan for the local sprint triathlon on your calender. It will surely help you finish feeling good and strong, so much so that you will be ready to immediately start training for the next race! Each week of training includes 4 to 6 hours per week of total training hours, composed of 2 to 3 swim sessions,  2 to 3 bike and run, as well as race specific "brick" sessions. The plan also includes specific guidance for recovery and is very easy to follow.  Expect to not only have fun with this plan, but also to gain some fitness!
As a special BONUS, each plan comes with a 30-page TRAINING GUIDE for you.  You'll get tips on race fueling, daily eating, equipment, race day execution, mental training strategies, and much much more!
Here's what a sample week from the plan looks like in "Training Peaks":