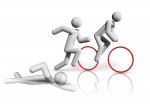 Olympic: I Want the Podium!
Recommended for serious athletes only.  You should have completed several Olympic distance races in the past 2 years, and you should not be nursing any injuries.   Motto: See what you're made of and suffer with a smile.
This plan is 8 weeks in duration and was designed by Coach Al.  If you are seeking a plan that will challenge you and lift your fitness to its highest possible level in preparation for an "A" priority Olympic distance race, this plan is for you. Each week of training includes 6 to 10 hours per week of total training hours, composed of 2 to 3 swim sessions,  4 to 6 bike and run, race specific "brick" sessions, as well as a race "simulation" training day also.  Your skills, threshold, and recovery abilities will be challenged in this plan, yet it also contains a smart, well designed taper to ensure you are truly ready on race day to have THE race of your season. The plan includes specific guidance for recovery and is very easy to follow. Expect to work hard and smart. You will get fit with this plan!
As a special BONUS, each plan comes with a 30-page TRAINING GUIDE for you.  You'll get tips on race fueling, daily eating, equipment, race day execution, mental training strategies, and much much more!
Here's what a sample week from the plan looks like in "Training Peaks":