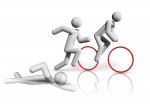 Olympic - Intermediate
Similar in purpose to the mid level Sprint plan, this is a great fit for anyone juggling real life and training, yet it contains enough volume and intensity to satisfy the more serious athletes. Motto: Work hard, get fit and have fun!
This plan is 8 weeks in duration and was designed by Coach Al.  This plan is ideal for YOU if your performance goals for your upcoming Olympic distance race are more than just to "finish," yet you also want to limit the amount of time and energy donated to training.  Each week of training includes 5 to 8 hours per week of total training hours, composed of 2 to 3 swim sessions,  3 to 4 bike and run, as well as race specific "brick" sessions. Many of the sessions contain some challenging "sets" which will help you reach a higher level of race day fitness. The plan also includes specific guidance for recovery and is very easy to follow.  Expect to work hard at times, but also very intelligently. You are going to have fun AND get fit with this plan!
As a special BONUS, each plan comes with a 30-page TRAINING GUIDE for you.  You'll get tips on race fueling, daily eating, equipment, race day execution, mental training strategies, and much much more!
Here's what a sample week from the plan looks like in "Training Peaks":