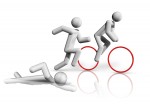 Iron Distance- Intermediate
Your friends think you're nuts, you asked your spouse to get you new Zipp wheels for your anniversary, and you squeezed out 5 more Watts in your last FTP test by sliding your saddle forward 7 millimeters.  Click the Buy Now button on the right.
This plan is 16 weeks in duration and was designed by Coach Al, feflecting the latest triathlon training science as well as over 30 years of practical experience as a coach and athlete.  This plan is built upon the same principles that got Coach Al to three Hawaii Ironman finishes, and also helped elite amateur, Lisbeth Kenyon, with FOUR ironman age-group world championships.
Ideally you will have completed an extended base period of training prior to embarking on this plan and have completed multiple half-iron distance races, and even at least one prior 140.6 / iron distance race. Each week of training, you will find approximately 10 to 16 hours per week of total training hours, composed of 2 to 4 swim sessions,  4 to 6 bike and run, as well as race specific "brick" bike-to-run sessions. During week 11 and week 13, you will find full "race simulation" sessions, to help you practice your actual race execution for the bike and run.  For those training with power on the bike you'll find multiple opportunities to test Functional Threshold Power (FTP). Multiple run "test" days are also included to establish heart rate training zones and an estimate of your lactate threshold running speed.
The plan also includes specific guidance for recovery and is easy to follow.  This plan includes a full taper, allowing you to be fully rested and ready to have a great race day. Expect to gain superior ironman / 140.6 race fitness from this plan!
As a special BONUS, each plan comes with a 30-page TRAINING GUIDE for you.  You'll get tips on race fueling, daily eating, equipment, race day execution, mental training strategies, and much much more!
Here's what a sample week from the plan looks like in "Training Peaks":