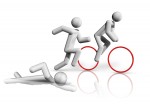 Half Iron - I Want the Podium!
Warning! For serious athletes only! Qualified candidates for this plan must have successfully completed several races at this distance and must be comfortable being very uncomfortable.  If you currently have an injury or are injury prone, find out why and fix it before starting this plan.  If you're healthy, fit and focused, prepare to get fast.  Very, very fast. Motto: "Suffering is the sole origin of consciousness." -Dostoevsky
This plan is 12 weeks long and like every other plan we offer, was designed by Coach Al, reflecting over 30 years of practical experience and the latest in cutting edge triathlon training science. You should have completed a preparation base period of training prior to embarking on this plan and ideally should have raced multiple half ironman / 70.3 distance events, prior to embarking on this plan. Each week of training, you will find approximately 9 to 14 hours per week of total training hours, composed of 2 to 4 swim sessions,  4 to 6 bike and run, as well as race specific "brick" sessions. You will find a full "race simulation" session, inserted to allow you to practice your actual race execution for the bike and run (run has been shorted slightly from a full 13.1). A Functional Threshold Power (FTP) testing day is also included for those training with power, as is a 3 mile run test to establish heart rate training zones and an estimate of your lactate threshold run speed.  The plan also includes specific guidance for recovery and is easy to follow.  This plan, due to its high level of training workload, includes a full taper, allowing you to be fully rested and ready to have a great race day.  Expect to be optimally conditioned and prepared for the best half-ironman/70.3 race you are capable of. Be ready!
As a special BONUS, each plan comes with a 30-page TRAINING GUIDE for you.  You'll get tips on race fueling, daily eating, equipment, race day execution, mental training strategies, and much much more!
Here's what a sample week from the plan looks like in "Training Peaks":