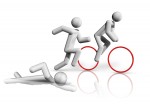 Half Iron - I Just Want to Finish!
Welcome to world of Long Course racing!  Ideally you've raced several Sprint and Olympic races and you're injury-free.  This plan is an excellent stepping stone to the 70.3 distance.  Motto: Finish the race with a smile on your face!
This plan is 12 weeks in duration and was designed by Coach Al. If you are moving up from the "Sprint" or "Olympic" distance and want a plan that will give you that little extra endurance and stamina, without making you feel like you've committed all of your energy to training, this is your plan! Build fitness in a smart balanced way, and be ready to finish your 70.3 / Half Iron with a smile. Each week of training includes 6 to 9 hours per week of total training hours, composed of 2 to 3 swim sessions,  3 to 4 bike and run, as well as race specific "brick" sessions. The plan also includes specific guidance for recovery and is very easy to follow.  Expect to keep training "fun" with this plan, but also lift your fitness too.
As a special BONUS, each plan comes with a 30-page TRAINING GUIDE for you.  You'll get tips on race fueling, daily eating, equipment, race day execution, mental training strategies, and much much more!
Here's what a sample week from the plan looks like in "Training Peaks":