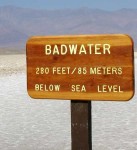 Coach Al here. A few weeks ago I crewed for Ultrarunner Jason Rita as he took on the hardest footrace on the planet, the Badwater Ultramarathon. My experience in Death Valley was extraordinary on so many levels. I want to take a few minutes in this video to present a synopsis of the training and racing tenets I affirmed during my time in the desert.
There are three takeaways I want to share with you, and I go into more detail on each point in the video. These issues have been on my mind a lot of late as Lisbeth Kenyon, an athlete I coach who happens to be the 45-49 Ironman Age Group World Champion, takes on the Norseman Xtreme Triathlon on August 5. While a number of racers I saw at Badwater did not have these three elements in place to support their racing, I know Lisbeth is fully equipped and ready to handle the most grueling one-day race in the world.
The Importance of the Basics and the Fundamentals
It always circles back to the basics, doesn't it? In the video I talk about how essential it is to nail fueling and hydration, have a race execution plan, and be mentally prepared for what may come your way. Sure, we talk about this stuff a lot as athletes. But the essential importance of these elements are laid bare in the desert, that's for sure. It's important to revisit.
Strength, Strength, Strength
When you are in an endurance race (or even a 5K for that matter) and you tire, your posture goes to pot, the body begins to collapse, and the effects of gravity and ground reaction forces beat down on you. It is then that the truth rises regarding how STRONG your foundation really is. You can subscribe to this running method, or consciously try to employ a particular technique, but when you are deep into it, what comes to the fore is your strength--or lack thereof.
At Pursuit Athletic Performance our mantra is MOVE STRONG. What I saw out in Death Valley was clear. If you want to finish strong, you have to first move strong. There is no doubt about that.
Mindset
The other truth made fully evident by the rigors of Badwater is the issue of mindset. How you think about yourself is profound. What your negative critic tells you, and how you react to those low (sometimes very low) moments is key to success or failure. Developing a mindset that allows for unlimited possibilities opens up so many opportunities in training, racing, and life as a whole.
Badwater was an extraordinary experience, and I hope these musings are helpful to you. Let me know if you have any comment or questions.
~Coach Al