Happy Friday my friend! I hope your day has started off great.
If you have any interest in getting stronger, perhaps progressing your pull up/chin up (or getting your first!) or... doing any overhead pressing and doing it safely, keep reading. I've got some important tips for you.
There are two very important questions I ask first, before I program any training for an athlete. Both of these questions deal directly with their safety (minimizing their risk of injury) and maximizing their potential to progress the activity, e.g. do more of it and get better at it.
What are those questions?
Do they possess the movement prerequisites to perform the exercise, sport or activity?
Do they possess the basic and fundamental skills and ability necessary to perform them safely and progressively?
Checking with my online dictionary :), I can quickly confirm that a prerequisite is defined as "a thing that is required as a prior condition for something else to happen or exist."
For example, let's say you want to start doing pull ups...but when you try, you struggle getting your shoulder to move through any range of motion, or maybe you can't quite get your arms overhead. In this instance, you honestly have no business trying to pick up a weight and put it overhead, right? The prerequisite in this case is shoulder range of motion.
Following me so far? (You'd be surprised how many fitness programs and trainers never actually check to see whether an athlete has that prerequisite ability before loading folks up with weight! That's a bad deal).
Fundamental skills and ability sorta speak for themselves, yes? If you're not sure what I mean, here's an analogy: don't you think your kid needs to have a good handle on basic arithmetic, before their teacher will have them move on to algebra or calculus? Smart training that pays positive dividends is no different. Move to more advanced skills without mastering the basics first, and your risk of injury is going to skyrocket while your ability to progress the training nosedives.
---
Train smart: make THIS part of your daily routine!
Since I've been talking about pull ups and chin ups, (or overhead pressing), I'm going to share with you one of the greatest exercises I (or any other coach or trainer for that matter) has ever programmed for another. It's that awesome and that beneficial.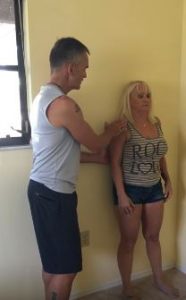 Click on the image to the left to check out an informal video of this exercise. I did this video for my friends over at Vibesworkshop.com. In it, I'll teach you this exercise. It's called a Wall-slide.
As I said earlier, this exercise has so many benefits, they're almost too numerous to mention. Here are the three most important:
It's a great exercise to establish and practice fundamental core stability while your arms are overhead and you're squatting.
It will help you simultaneously open up the front of your chest/trunk (which, admit it, has gotten tighter since you started staring at your smartphone for hours on end!), while also stabilizing and strengthening your back and shoulders.
It'll help you get your thoracic spine moving (that portion of your spine between your neck and low back), which is a very good thing.
If you find doing this is challenging (assuming you're doing it correctly of course), you'll likely be compensating when doing any overhead work. That means a big risk of injury. It may mean your t-spine isn't moving as it should. It may also mean you're super tight around the chest area and in need of some shoulder stability work! Regardless, you'll get so much benefit from making the Wall-slide part of your daily routine.
So, get on it! 🙂
Got questions or something I can help with? Get in touch!
To your success,
~Al