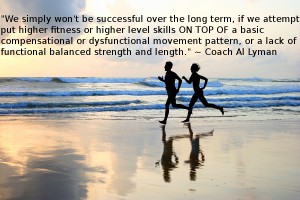 Believe it or not, we're approaching mid-January. The sub-freezing temperatures have settled on the northeast and Midwest, and the snow is piling up.
Whether or not it feels like it (can you say 15+ inches of snow and counting yesterday, if you live in the northeast!), spring is right around the corner, and with it, the events you have planned that you are also HOPING will make you feel good about yourself AND about the year 2018, when looking back on it.
The problem for many, especially those who have had success in the past, is allowing their EGO (along with some wishing and hoping) to get in the way of forward progress.
Why do we allow our own "confirmation bias" or our need to always be "right" to drag us down and keep us stuck in a place of injury, plateau, or worse?
If you can't get out of your own way long enough to leave behind the wishful thinking and see things (even for a brief moment) for how they REALLY are, then you know what? You will reap exactly what you sow. You will remain stuck in a place where injury or poor performance becomes your new normal.
If I've learned anything over the years, it is how important it remains to embrace humility. I have also learned that I NEED to get out of my own way and reach out to others with a beginner's mindset, so that I may move fully forward and reach my greatest personal potential! Not always easy, I know, but incredibly important and powerful.
Why not join me and a long list of others and finally put the injury and plateau bug behind you!
Get in touch with me by email to see if there might be a way I can help you with a consult, or even a Virtual Gait Analysis. Take the first step now toward becoming the better, more durable athlete you know exists inside, so that 2018 turns out the way you hope it will!
All my best,
~Coach Al