An old cherokee told his grandson, "My son, there is a battle between two wolves inside us all. One is Evil. It is anger, greed, jealousy, resentment, inferiority, lies, and ego. The other is Good. It is joy, peace, love, hope,  humility, kindness, emptathy, and truth."  The boy thought about it, and asked, "Grandfather, which wolf wins?"  The old man quietly replied, "The one you feed." ~author unknown
Your complaints, your whining, your victim mentality, your drama, and all of your excuses, have NEVER gotten you even a single step closer to your dreams or goals. Let go of your nonsense. Let go of your DELUSION that you DESERVE better, and go EARN it. ~ Dr. Steve Maraboli
I'm going to make a change, for once in my life. Its gonna feel real good, gonna make a difference, gonna make it right…That's why I want you to know, I'm starting with the man in the mirror. I'm asking him to change his ways. And no message coulda been any clearer, if you want to make the world a better place, then look at yourself and make a change. ~  Singer Michael Jackson, from "The Man In The Mirror."
"I am responsible. Although I may not be able to prevent the worst from happening, I am responsible for my attitude toward the inevitable misfortunes that darken life. Bad things do happen; how I respond to them defines my character and the quality of my life. I can choose to sit in perpetual sadness, immobilized by the gravity of my loss, or I can choose to rise from the pain and treasure the most precious gift I have – life itself."  ~Walter Anderson 
Its been one of those weeks when it seems that its just a little harder to "fight the good fight." Hey, I know we all have our own pile, right? I'm not alone.
Sometimes life's challenges step right up and hit us in the gut.  Sometimes people you trust and care for end up striking back at you, and what results is a struggle to regain your belief in the inherent goodness in people. Sometimes it seems that every time you look around, bad things are happening to good people.  My dad once told me that "life ISN'T fair, and not to expect it to be." The ole man was right!  🙂
I was watching a taped ESPYS show on the sports network ESPN the other night.  It was being replayed from 2009. Just when I least expected to be inspired and pulled out of a little doldrum I was in, up to the microphone steps now deceased Northern State basketball head coach, Don Meyer.   Meyer was being presented with the "Jimmy V Perseverence Award."   Coach Meyer was the recipient of many other awards while he was still alive, and is the subject of a book, "How Lucky You Can Be" written by ESPN's Buster Olney.  (If you don't know who "Jimmy V" is, google his name right now and read).
Coach Meyer's personal story is well known among college basketball fans and sports fans alike.  He retired in 2010 as the winningest men's college basketball coach ever, compiling a record of 923 wins, and 324 losses. (The record was later surpassed by Duke coach Mike Krzyzewski in 2011). But coach Meyer's record of basketball excellence doesn't tell the story of this man, who never coached above the Division II level, yet had an impact on the his sport and the people in it, on a truly global scale.
As coach Meyer walked to the microphone, his personal saga played out on the big projection screen behind him.
It is September 5, 2008.  He is involved in a terrible car crash in which he suffers terrible injuries, including one that ended in a loss of one of his legs.  But that's not the worst of it. During the emergency surgery after the crash, doctors discovered cancer in his liver and intestines.  Amazingly, in an interview during his recovery from surgery, he said ""What's great about this is I would not have known about the cancer had I not had the wreck. God has blessed me with the one thing we all need, which is truth. I can now fight with all of my ability."
The very next day after being released from the hospital, he was at school coaching from his wheelchair.
As I sat there listening to his speech upon accepting the Jimmy V award, I couldn't help but feel a bit like a jerk, for how I was feeling at the moment I turned on the TV. I thought I had had a rough time – personal and business difficulties, and other things, seemed almost overwhelming.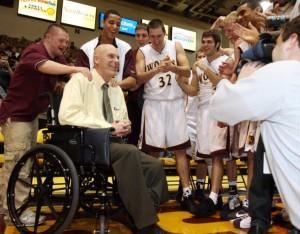 As Coach Meyer spoke straight from the heart, looking with gut-wrenching honesty into the eyes of every person in the room, he recalled visiting with legendary UCLA basketball coach John Wooden after the crash. Coach Wooden shared with him a card that had some advice HIS father had given to him upon his graduation from grade school.
It has stuck with me virtually every minute since.
It said, "dont whine, don't complain, and don't make excuses."
Coach Meyer went on to tell the story of him showing up every day for rehab in the clinic, looking around the room at all of the people struggling and suffering, trying to heal and improve, and all the while, remembering and reiterating those powerful words to himself: Don't whine-don't complain-don't make excuses.
Coach Meyer's words really hit me hard; they shocked me back into that reality that often happens when we hear of someone else having what seems like such hard luck or bad fortune.
When bad things happen to good people, it often helps us realize what WE have to be grateful for – the blessings in our life – it helps us to prioritize and remember what is TRULY important – and helps us see that while life ISN'T always fair, it is good.  
Yes, its easy to allow a feeling of entitlement to occasionally creep into our mindset or to feel sorry for ourselves when something "bad" happens, when the harsh reality is, any discomfort or difficulty we find ourselves staring at is usually brought on by our own choices and decisions, however hard that might be to accept sometimes.
Can we learn from the mistakes we have made so we don't repeat them?  Can we truly be grateful for the blessings in our life and share that attitude of gratitude with the world on a daily basis? Can we wake up every day ready to re-commit to living the ideals put forth by John Wooden and his dad?
As I look at the man in the mirror and re-examine my own life and my attitude toward it, what am I trying to say with this blog today?
If you're an athlete and have made the choice to walk into a gym, or to train and race, don't whine or complain about how hard the training is or how tough the race may be. You are choosing to do this. Getting out of your comfort zone and "suffering" on some level to achieve is what it takes to GROW and to reach your ultimate potential.
More to the point, I can say with total confidence that suffering through any pain or discomfort is a privilege and a blessing… that so many who aren't so fortunate, only wish they could do.  To be able to train and race is not something we're all entitled to! Cherish the opportunities!  Make the most of them, every day, and in every way.
Be HONEST with yourself and be willing to accept honesty from others. If someone IS being truly honest with you, it means they care about you. Its the liars you have to worry about.
If you, like me, have made mistakes in your life be it personal or in business, suck it up and stop whining and realize that sometimes life teaches us hard lessons. We need to LEARN from those lessons and soldier on!  Don't give up or give in.
Have the courage and strength to accept that the choices you've made and don't look back. Look forward.
Please join me and starting today, strive each and every day to be thankful for every blessing in your life; commit to doing the most you can with every minute of your life!
Don't stop learning, don't stop growing, don't stop reaching, don't stop challenging yourself, and don't whine, don't complain, and don't make excuses.
As Charles R. Swindoll said, "Words can never adequately convey the incredible impact of our attitudes toward life. The longer I live the more convinced I become that life is 10 percent what happens to us and 90 percent how we respond to it."  Make it a great day!
~Coach Al