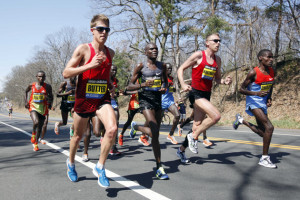 In our triathlon team forums, we have been discussing the issue of forward knee drive in running. It is, in fact, an important element of great running. Once you understand what forward knee drive is, I bet you will instantly create a picture in your mind of what that looks like. Every elite runner has it, and we've all seen it. It's worth taking the time to read through this post and understand what forward knee drive is, and how to create it in your own running.
Forward driving knee is an action of the knee that is, in fact, very much a PASSIVE reactionary movement/response to the amount of force being applied to the ground during the mid-stance phase of the stride. It is very much like the "bouncy ball" analogy I use a lot with runners and triathletes we train. That is, the harder I throw a bouncy ball to the ground, the faster that ball comes back at you, and the higher into the air it will go. Your body is the exact same way.
So, my point here is simply this: the STRONGER you are, the more force you are able to apply to the ground with each foot strike during that mid-stance phase. Assuming adequate length in the calf (and, thus, dorsiflexion of the foot), the tissues along the backside of your body will then be able to create a big STRETCH. This stretch results in that leg swinging forward very rapidly and, assuming appropriate mobility of the hips and good strong glutes (resulting in a more neutral pelvic position), the knee will continue to drive forward.....in what, to reiterate, is a largely passive response to the action of applying that force.
Reading through this, what I hope you're getting, is that there are a number of factors and elements that need to be in place, and are important, in order for all of this to happen as it should.
You must have the following:
Muscular balance. This balance creates better pelvic position and appropriate strength/length around the key joints, especially the hip and ankle.
Appropriate mobility of the hips and ankle, and length in the calf.
STRONG GLUTES and posterior chain as a whole, which is responsible for improved force production into the ground.
All of the elements above are engaged at a higher level as speed increases. In other words, at slower rates of speed, there is less overall dynamic application of force and loads, thus less evidence of these elements in action. To put it more simply....a "survival" shuffle has been called this for a reason....with slow running comes more of a shuffle, vs. a very fast running action.
There are even more elements in place beyond these I've mentioned, especially when considering the holistic elements of fascia and the nervous system.
My goal here ISN'T to complicate this at all! My goal is, simply, to say that all of you ...
You MUST focus first on GETTING FUNCTIONALLY STRONGER, and then focus on learning how to gradually run FASTER. If you do those two things and stay the course, the knee drive will HAPPEN passively, WITHOUT YOU having to consciously think about it or control it.
There are drills to help with these skills also, but they are "frosting" on the cake, not the cake itself.
The cake is:
strength, strength, strength
balance in the body
appropriate mobility of the key joints
patience and persistence in learning, or "re-learning" how to run fast!
Questions? Fire away!
~Coach Al