This is the final post of a four-part series on functional strength training. Click below to see other posts in the series.
Is Functional Strength Training A Fad? A Gimmick?
Stop Leaking Speed!
You Need To Be Stable To Perform Your Best
---
I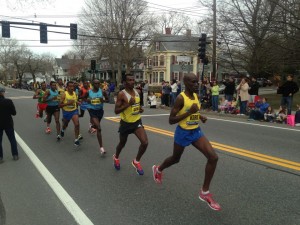 f parts one, two, and three of our series on functional strength training haven't convinced you that you must be a strong and stable athlete in order to perform at your potential, consider this:
1. Becoming functionally strong will make you faster. Guaranteed.
2. Together with a solid training program and time spent on sport-specific drills, being functionally strong will make you an all-around more powerful athlete.
3. You will NEVER unlock your ultimate athletic potential by simply putting in mega-hours practicing or training.
These are the simple facts.... By becoming functionally strong you will teach your body how to generate power AND move effectively and efficiently. Focused functional strength work will get the big prime movers moving, and the stabilizers stabilizing. You will build more effective and solid biomechanics to move you efficiently and speedily in your sport.
So how does functional strength help you generate power?
For one, it allows you to build and use "elastic return" when running. Here's what we mean.
A runner—let's call him John—is functionally strong. In his running he is reaping the benefits of good biomechanics, sound stability, and enhanced mobility and flexibility—all afforded by adopting and adhering to a functional strength plan over time.
John looks as though he runs effortlessly. He always looks like he's in the zone, and never seems to be expending great effort for the speed he is running. When you see him you think, "Mr. Smooth."
Of course no one can run without effort, not even John. But what runners like John have—that you likely do not—is the ability to minimize the energy and effort used to run by having a musculature that efficiently stores and returns energy—elastic return. That's how they generate POWER. And that comes from being FUNCTIONALLY STRONG, in all the right ways.
Here's a simple explanation of elastic return:
Your muscles are like big rubber bands. When you stretch the rubber band you are building elastic energy. Let it go, and the force built up in the band is suddenly released and it, literally, flies. That concept is the same for your muscles. "Elastic return" is the ability of your muscles to store energy and return the force that is built up.
When you run, your leg and hip muscles stretch, just like a rubber band. Force and power build up in the stretched muscles. Your muscles then release the force, which propels you with forward motion—elastic return.
A muscle with higher elastic return will return more stored energy allowing you to run faster and longer while using less energy. It makes you more EFFICIENT and POWERFUL.
Faster running, fewer heartbeats. Win-win.
The ability to be a more efficient, powerful, and faster athlete with great elastic return in the muscles is available to anyone willing to commit to becoming functionally strong. What are you waiting for?