Podcast: Play in new window | Download
Subscribe: Apple Podcasts | Android | RSS
 Hey Everyone!
Las
t week I was inspired by a blog post by Pat Flynn of The Chronicles of Strength to write on the issue of being a truth-telling coach. Pat's words about cutting through the training bunk out there to present the TRUTH about what works in training resonated very deeply with me. You can read that post here.
This week, I actually sat down with Pat to do a podcast on the topic of truth-telling, and what happened in the conversation is an amazing, deep discussion of so many dimensions of training! Our talk ranges from how to lose body fat, to how best to build true strength, power, and speed. I think you will really enjoy the exchange, and, no doubt, you will learn a LOT.
What makes the conversation so interesting is that while Pat and I have a lot in common, we are very different. It's what m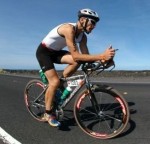 akes the world go round, right?
I'm primarily an endurance sports coach, while he is first and foremost a strength coach. Our commonalities do link us in really cool ways, however, and you'll hear that we think the same where it matters the most:
We value the truth over marketing BS and false promises. We are committed to building true health and fitness our athletes can build upon year in and year out vs. building false fitness on a facade of wishing, hoping, and poor program design.
We both have a musical background, which, to me, means we understand the value of quality repetition, skill building, and delayed gratification—all of which are crucial for long term success in ANY endeavor.
We favor simple time-proven strategies to improve mastery of the basics.
We care deeply about the athletes we work with, and are passionate about helping others. We are all-in committed to the long-term health and success of those we coach.
Our podcast focuses on three main areas of discussion:
1. Minimalism In Training
Minimalism, NOT as it relates to shoe wear, but as it relates to improving effectiveness and efficiency in training! "The right things in the right way." A quote Pat shared: "The elite aren't the people who move away from the basics, they are the people who move deeper into them." We talk about doing the right things, and doing the least to get the job done. This doesn't mean "easy," or less "work," but it does mean paring training down to the essentials and mastering those elements! We also get into:
Effectiveness and efficiency: Is the Crossfit ideology flawed? (Short answer...yes it is.)
Metabolic training vs. power training and power generation
The importance of the nervous system and training skill vs. just working "harder."
2. Fasting
We dive into some of the benefits of altering how often we eat and what we eat. Should we eat less often? Or more? What is fasting? We get into the key points and methods associated with this important, cutting-edge, and popular topic. Other nutrition-related topics we cover:
TRUE hunger vs. cravings
Are you addicted to sugar?
Is post exercise feeding and refueling as important as we have been told?
3. Honesty and Truth in Coaching
Ask yourself, do you want a coach to tell you you're "great," or do you want to hear the truth? Which kind of feedback will help you GROW more? We discuss the real TRUTH about the best ways to grow, improve, and truly unleash! And thus enjoy training more!
Many thanks to Pat for taking the time to do this podcast. It was super valuable and great fun. Check out his The Chronicles of Strength web site, and like Pat's Facebook page for daily tips and great info. You can follow him on Twitter too.
Coach Al
We hope you enjoy our podcasts and find them useful for your training and racing. Any questions? Hit us up in the comments, or on Facebook. Let us know of any topics you would like us to cover too.

NOTE! If you review our podcast on iTunes you could win TWO MONTHS FREE on our training team! Click here for details, register below.
Help us share the positivity—click here for a ready-made Tweet!
Click here to subscribe via RSS (non-iTunes feed)
We're on Stitcher Radio too!