Hi Everyone!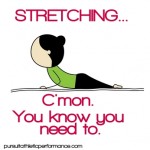 Our little cartoon here says it all. You know you should be stretching!
Dr. Kurt Strecker and Coach Al Lyman take you through the stretches they most commonly prescribe for athletes. Take the 10 minutes to try them out, and--ahhhh--see how much better you feel at the end. Work at these stretches a little bit, and the results will absolutely be there for you!
Questions? Fire away!