Hello everyone! Coach Al here.
I am very excited to announce that I have partnered with Ultra Running Champion Debbie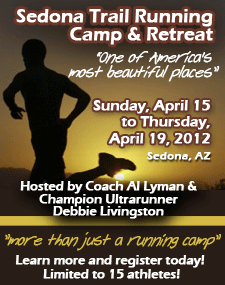 Livingston to host a five-day trail running camp and retreat in beautiful Sedona, Arizona!
The camp will be held Sunday, April 15 to Thursday, April 19, and we have no doubt it will be the experience of a lifetime!
The camp and retreat will be hosted at the spectacular Red Agave Resort in Sedona.
Debbie and I see this as more than just a running camp. This five day "running retreat" is an educational and inspirational experience designed to develop you as a COMPLETE runner.
As we run, eat, and live together, surrounded by the magical red rock formations of Sedona, you will be immersed in aspects of training that are essential to becoming a stronger, faster, and mentally-tough competitor. There is no doubt you will emerge a smarter, reinvigorated runner equipped with the tools you need to make you faster and more resilient--ready to unleash your highest running potential.
The Sedona retreat is also the ideal lead-in to the legendary Zane Grey 50 Mile Endurance Run to be held April 21, 2012. Debbie is competing in the race. If you are already registered for this challenging event, the retreat in Sedona is the perfect venue to help you cap your physical conditioning, shore up your mental game, and share an uplifting event with other runners. What a fantastic way to wrap up your training! See our event page for more details.
The camp is open to all runners of all levels and abilities who want to improve, learn, and share. It is is limited to 15 athletes - first come, first served! Registrations need to be completed no later than March 18, 2012.
Explore the who, what, when and why, plus complete details, bios, and more at the here. Make the commitment to yourself and to your training in 2012, and register today!
Feel free to contact me with any questions. Hope to see you in Sedona!