Our athlete Debbie Livingston broke the record in the 70.5 mile run at the Laurel Highlands Ultra on June 9! No one works harder than Debbie, and no one is more deserving of this grand success.
We thought you would enjoy her race report. It's a look inside the experience of a champion running a very long way. Enjoy!
Laurel Highlands Ultra
By Debbie Livingston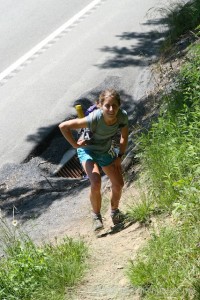 For me, last year's Laurel Highlands Ultra was different than this year's in many ways. Last year was my first time. The course had a road detour that added 6.5 miles to the standard 70.5-mile trail race on the Laurel Highlands Hiking Trail. I was also still nursing my daughter, Dahlia. 2011 was challenging, but I was able to make it to the finish line as the first female and that win secured a space for this year. With a new footbridge installed, there was no detour this year. With Dahlia done with "mommy's milk," I was determined to come back, race strong, and possibly win again.
Leaving for our long drive to Pennsylvania, our family had a hard time getting out the door of our house. Not only did I have to remember all the items for my race but also I had to be sure I had all the kid's clothes, enough food for all of us, as well as all our camping gear. So, it was inevitable that I would forget a very important item (or items).....my Succeed S!Caps salt tablets! I didn't realize this until I was setting my race items aside, but I wasn't worried. I knew that somehow we would find other runners or crew that had extra or they would offer them at the aid station.
We camped at Ohiopyle State Park, which was less than a mile by trail to the start area. After listening to countless train whistles blow, and even a child yelling in the middle of the night, morning rolled around fast. I jogged down the trail just like last year and crossed the Youghiogheny River via the Great Allegheny Passage rail trail to reach the start area at 5:10am. I pinned on my number and asked Rick Freeman, the race director, if there were any salt tablets at the aid stations. He said there we not. Bummer! I had faith that Scott would still be able to find some. I would see him at the second aid station at mile 19.3 miles. I headed to the restroom for one last stop and then back to the start line where RD Rick handed me a bottle of SaltStick Electrolyte salt capsules. and said, "Take what you need." I thought, "How wonderful!" I had never used these before, but I was not concerned.
The race started right at 5:30am and after going up the road and under a bridge we turned left and began climbing uphill. I chatted with a few guys heading uphill. I went back a forth for a bit with a couple of them and then lost site of everyone. No one in front, and no one in back. This was the theme for 80% of the race. Running alone gives me lots of time to think. One of the games I get into the habit of playing is crunching numbers; constantly calculating my pace and what I need to do. It helps pass the time and is quite entertaining. I had looked up the course record and without telling anyone decided I would make it my goal to break it or at least get under 14 hours.
I breezed through the first aid station at mile 11.6 and came into the second aid station in about 3 hours 15 minutes. I exchanged my UltraSpire Surge hydration pack with a fresh and fully stocked one and headed right back out. Scott was also able to get a hold of more SaltStick Caps. There was no time to hang out in the aid stations at this race!
I felt good about my pace and I got into a rhythm with my fueling; take a swig of Perpetuem from my flask on the hour and half hour, take a SaltStick Cap at three-quarters past the hour, and sip water every 5-10 minutes.
I was nearing the 50k mark and knew I wanted to be there in less than 6 hours. I hit that mark at 5 hours 45 minutes and was happy with that. I didn't see Scott at the next aid station and it took me a bit by surprise. He and the kids weren't able to get there in time after leaving the prior station. I ended up stopping, getting a cup of water and grabbing a 1/4 banana. I didn't need either of them but got caught up in the aid station.
When I realized I had a banana in my hand I quickly left but decided that I would eat it since it was so small. This section of the course took us through Seven Springs Resort, which is the most open section of the entire trail. I ran around a pond, across ski slopes and on horse trails. It felt good to have a bit of sunshine on my face. I looked at my watch at 35 miles and it said 6 hours 32 minutes. I was still on pace, which was almost half way, and with a 45-minute buffer.
I started hitting a lot of dirt road crossings, and kept wondering when I would finally get to see that trail section and bridge that was in disrepair last year. I finally came upon it. This section seemed to go on forever!
At 39 miles I came into Linn Road aid station. I switched my pack quickly and swigged coconut water. I also told Scott I would like to change socks and shoes at the next aid station. I wanted to be proactive. I knew my sneakers were not as fresh as they should have been. I asked Scott for a caffeine gel as I left.
About a half hour after leaving that station I pulled out my Perpetuem flask and found it empty! Empty! Ugh! How did Scott forget to refill it? Oh, well I thought, "no big deal." I sure was happy that I asked for an extra gel. I believed I would be fine.
I reached 46.4 miles in good form. I promptly changed my socks and shoes. I drank a half a bottle of electrolyte drink and ate another caffeinated gel. I left with a little spunk and decided to wear my visor.
By the time I got to 57.3 miles I was starting to waver. I needed more fuel and a pep talk. I sat down and drank electrolyte drink again. I ate another caffeinated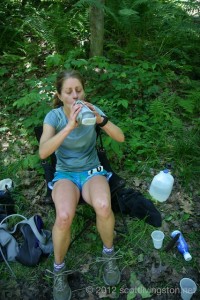 gel and pushed on. Not long after, a runner came up behind me. His name was Matt Clay. He helped push me a bit. I told him I was aiming for the course record and if I could only average 12-minute miles I would get to the finish with time to spare, but I was feeling low.
He believed we could do it. Matt asked if I needed anything. I had my fuel, water and salt tabs, so I said, "no." He got in front and tried to "pull" me along. He asked again and I said I needed caffeine. I don't drink coffee or soda at home, so caffeine really pumps me up at the races. After a few minutes of tailing Matt, I started running more and walking less. Eventually he said that he thought he might have been a bit too optimistic and that I could go ahead. Off I went.
Soon after, another runner, Andrew Bartle, passed me, and he was moving quite well. I tried to keep him in my sights but could not. One mile before the very last aid station at mile 62.5, the trail turns to rocky dirt road. It feels awful to me because the rocks are tough to run on and you can see so far ahead. One good thing was that I could see the runner that had passed me not long before, and I was keeping pace with him. I reached the aid station, grabbed water and promptly left. There was no standing around! I had 1 hour 40 minutes to run 8 miles and from what I remembered, it was mostly downhill.
So I began to dip into my reserve well. I remembered how I ran the last 6 miles of the Grindstone 100 in about 60 minutes, and it was almost all uphill. I also remembered that the very last mile is a bit short. Andrew passed me right way when we left the aid station but I never let him out of my sight this time. I watched for the mile markers and kept doing the math. Things were looking good! When I hit the cell tower I knew for sure that it was all downhill, and that I was golden; barring any terrible falls. Now the question was how much would I be able to break the record by.
I turned up the intensity. Running downhill takes very little effort for me. I went into autopilot and focused on my target. My fellow racer, Andrew, hit the ground a few times as the toll of the day started getting to him. At one point he hit so hard he did not get up. I came up behind him, paused for a moment, and asked if he was okay. When he shook his head yes, I barreled on encouraging him with words, "We're almost home!" I began smiling ear to ear as I navigated the last of the rocky trail. I crossed the finish line with my fists pumping in the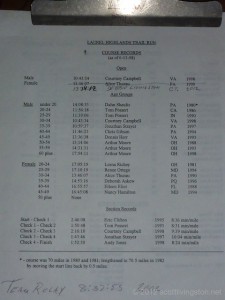 air. I did it! I was well ahead of the course record (13:46:07), which was set by Alice Thurau in 1990. I finished in 13 hours, 34 minutes, and 12 seconds, and was 4th overall!!!! After I crossed the line, I looked for my husband.
I heard my son Shepard yell, "Daddy went back to the van." After all that, he missed my finish! Scott came running over and we hugged. The after celebration could have been more fun if I had a better feeling stomach and was able to rest. Due to all the caffeine I put in my system I didn't sleep a wink. Morning couldn't come soon enough!
The Laurel Highlands Hiking Trail climbs 10,700 feet and descends 10,560 feet over 70.5 miles of rocky terrain when traversing south to north. It is a gorgeous trail and the second longest continually run trail ultra in the country. The RD, Rick Freeman and his volunteers put on an amazing race. I will be back again.