Hi Folks!
Hope you had a chance to read my post about the wonderful confluence of events and people that led me to decide to take on the Grand Canyon Rim to Rim to Rim Run (R2R2R) in November. This kind of ultra running event of 42+ miles was not on my radar in the least--until the universe decided to send the opportunity my way equipped with the greatest group of people with whom to share it. I'm super excited to be taking on this grand adventure, and will keep you posted along the way as I prepare physically and mentally.
As part of my run prep, I ran the Pisgah Mountain 50K Trail Race on Sunday, September 16 in Chesterfield, New Hampshire. I ran with friend and client Tim Mather who is also doing the R2R2R. In brief, event went extremely well--I could not have asked for better result, and that is a great feeling.
Before the race, I felt the 50k was a huge challenge given the fact that I had run three hours only six days before, AND had never done more than 16 miles on a trail this technical ever in my life! But my inner self-talk boiled it all down to this--
It's just a training run with a purpose...get the time on your feet in the company of other like-minded runners on a challenging course...see if you can complete it, in one piece, recover quickly, and keep the mojo going toward the Canyon.
If I could make that happen, I knew it would be a great confidence booster.
Tim and I traveled Pisgah together. Our race plan was simple:
Be conservative in the beginning
Hold back on speed and JUST FINISH feeling good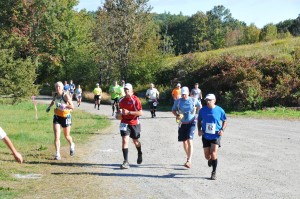 By being smartly cautious we hoped to avoid major issues like rolled ankles or gastrointestinal distress that would negatively impact our continued progression. By finishing upright and in one piece, we would be on our way to continuing to build the fitness we needed for the R2R2R run.
Since our own Pursuit ultrarunner Debbie Livingston has WON this race in the past, I checked in with her for some tips. She had a number to share, but managed to hold back on actually telling me how incredibly hard this trail is! I think she planned it that way. Keep the secrets a secret, and watch how the coach responds when he actually finds out that this trail is no walk in the park! 🙂 More likely, she is just so incredibly good that she doesn't consider it particularly hard! Either way, Tim and I quickly learned from some other experienced runners on the course that there were plenty of challenges ahead. Among them is a summit of Pisgah Mountain, which comes after many false summits along the way, and plenty of technical trail with rocks, roots, and the like. On a hugely positive note, we had gloriously sunny skies and a DRY trail, which is huge blessing. This course would have been SO MUCH harder on wet rocks, roots, and moss. Thank you to the weather gods!
So how did the day go? Tim and I ran virtually all of the flats and downs at a very conservative pace. We walked all of the steep ups during the early miles, and eventually ALL of the ups. The end result was a +/- 7 hour finish for the 50k distance.
I feel we executed a perfect race. We achieved what we wanted and needed to in terms of managing hydration and fueling well, and avoiding any rolled ankles or falls. We can now look ahead with renewed confidence about our physical preparation. Even more, we talked a great deal of the time and enjoyed meeting so many other runners out there. We even experienced some "discomfort" and built some of the mental fortitude that we are sure to call on in November. It was a huge success all around.
I came out of the day with three major thoughts that are important to share with you: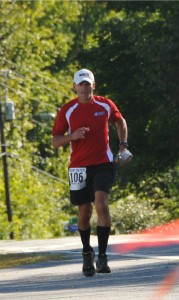 1. My commitment to functional strength-- and ALL of the elements I espouse in this blog and preach to the athletes I coach on a daily basis-- is the only way I was able to put this day in the record books. Had I foolishly run tons of miles without the requisite strength work, I surely would have been injured long before this race was even on my calendar.
2. As I sit here two days after the race, when "DOMS" (delayed onset muscle soreness) should be at its highest level, I can't believe how good I feel! I have some minimal soreness in my legs and low back (from having over worked my hip flexors getting over the rocks and roots on the trail), but otherwise feel totally ready to rock and move forward with my training. No tweaks, no minor injuries, no real soreness. Every day, I'm reminded that when we move well and are functionally strong, we recover so much more quickly from these kinds of racing efforts. Our clients tell us the same thing every day as well.
3. The top trail runners are AMAZING, Debbie Livingston included. The winner covered the course in half the time I did. The female winner was about 45 minutes behind. You would have to see these trails to know what I mean--to average 8-minute miles is incredible and a testament to the amazing skill and fitness of the top runners. Congratulations to them!
I have to say, I believe that with a year of consistent run training under my belt and even MORE STRENGTH, I could show up here next year and take two hours off of my finish time. But, that isn't the point. The point of the day was to finish healthy, finish strong, and keep on the path toward the R2R2R. Mission accomplished!
Thanks for reading! GET STRONG. It MAKES ALL THE DIFFERENCE.