Hello Everyone!
Today's blog post is, I believe, the most important one I have done to date.
The video below not only elucidates the passion my partner Dr. Kurt Strecker and I share in the tenets at the core of Pursuit Athletic Performance, but it also gives you a look at how that philosophy formed the foundation of the coaching program I put together for Lisbeth Kenyon's training for Norseman Xtreme Triathlon. Lisbeth had an amazing result at the world's most difficult long course race coming in 3rd woman overall, and together with the first two finishers, smashing the existing course record. I am getting a lot of questions about how she trained.
There are four principles I talk about in the video that are, in my opinion, the cornerstones of effective, results-oriented training. These four keys are at the basis of the coaching program I design for EVERY athlete, Lis included.
1. Movement Quality First
This is the baseline for EVERYTHING--your training, your racing, getting faster, unlocking your true potential, and reaching your goals. It is the reason for our gait analysis system, and why all of our athletes undergo the process. (If you want to know more, I gave an entire lecture on the topic of "Quality Movement First" that you can download here. )
2. Quality over Quantity
Training is more than just going "hard," or "hard before long," or any other coaching catch phrase out there today. It's also not about maxing out "training load," but, rather, it's about building your work capacity under the auspices of quality movement. If that's not the focus or the strategy of the training you do, you will be forever limited in your development. That's just the simple, hard truth.
3. Strength, Strength, Strength
Looking for a magic bullet? Strength is it. True functional strength designed to shore up YOUR personal weaknesses and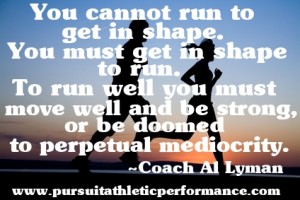 compensations is not just something "nice" to have. It is truly the foundation for all athletic accomplishment, regardless of your ability or your sport. We created the image posted here to bring attention to the widely-accepted belief that we need to run to get in shape. Actually, the truth is just the reverse. You need to get in shape--and get strong--to run. Strength is the limiter for any athlete in any sport, and the most important determining factor for your success.
4. There Is No Short Cut--No Easy Way
There are no special shoes, no magic workouts, no short cuts that lead you to outstanding achievement. Unlocking your personal athletic potential must be done from the inside out--you can't impose it from the outside in. Lis understood this on a cellular level. It's not always fun or sexy to work on the fundamentals and skill development, but it always circles back to the basics when striving to reach one's potential.
It truly is an incredible honor to coach Lisbeth Kenyon. It is humbling to have an athlete of Lis's caliber believe in our philosophy, put her trust in it, wrap her arms around it, and then work very, very hard on the training prescribed for her. The victory at Norseman is surely all hers. Lis's result is a testament to her talent, physical and mental toughness, and unwavering dedication.
But Lis is YOU. That's right, the fundamentals that I talk about here are essential for ANY athlete no matter your ability, experience level, your age, or your sport. At Pursuit Athletic Performance we see the four principles outlined above take athletes to levels of performance they never thought possible. Hope this video is helpful to you.
Train strong, train smart,
Coach Al
P.S. A great photo album of Lis's day on the race course can be seen here.