Hello Everyone!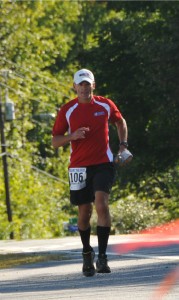 I am excited to announce that I am taking on the Grand Canyon Rim to Rim to Rim Run in November. I am posting this update for a few reasons--to give you a view of what I'm up to, how my training has progressed, and to tell you the story of how this whole darn thing came about. The universe works in wonderful and mysterious ways, and I am going along for the ride!
This past July, I traveled to Death Valley to crew for Jason Rita as he took on the Badwater Ultramarathon. The experience had its share of ups and downs. One of the "ups," however, was meeting the other crew members including Jon Nassif. Jon is from Denver, and he owns a couple of restaurants including Green Fine Salad Co. He is an avid ultra runner and wanted a first-hand look at Badwater. He sought a team to crew for, and ended up assisting Jason. (And let me tell you, Jon can cook!)
Jon and I instantly hit it off. We talked for hours about training and life. He was very interested to learn and to share, as was I. Our discussions ranged from gait analysis to personal relationships to business, and everything else in between. We established a friendship.
A few weeks after Badwater, Jon contacted me about a bucket-list run he wanted to do--the Grand Canyon Rim to Rim to Rim Run (R2R2R). The opportunity, and the people to do it with, never manifested for him--until now. He wanted to do the run with me, and, perhaps, a few more folks with whom we would enjoy sharing the experience.
My first reaction? That sounds amazing! And fun. And really, really hard.
Then I started thinking....
The longest run I have done in the past YEAR was about an hour. I have been enjoying mountain biking, and I have been working around the clock coaching and in our gait analysis lab. I did not have any run racing planned for the future, so anything more than running to maintain basic run fitness was not in the cards.
But, still.... I was intrigued.
The reasons were simple, really. The R2R2R was not going to be a "race." Right now, at this point in my life, racing does not light a fire in my soul. If I took on the rim run, it would be an ADVENTURE and a JOURNEY with an amazing guy. It was going to be a unique opportunity to see a place few people ever do. And it was going to be an extraordinary challenge.
After talking with Jon at length about the fitness required, the logistics, and our schedules, it was clear that that the best time for BOTH of us to take on the challenge would be in November. We settled on a run date of November 16th, one day before my 53rd birthday. Our plan is to do the run on Friday, then make our way back back to Las Vegas on Saturday for a true birthday celebration! Sounds perfect.
Of course, the problem is that a November run date meant I had only about 3.5 months to train AND taper for this epic run of ~45 miles. The general scope of the run is simple--seven miles down into the canyon, seven miles across, seven miles up to the top of the north rim, and then returning to the start. It is a total of 42 miles if taken point to point. Of course, nothing like this is ever point to point. Also, variable conditions are the order of the day. It is often 32? at the south rim, and 75? in the canyon itself. The altitude (7,500 feet at the south rim and 8-9k at the north rim) would make it even more of an epic test.
What on earth had I signed up for?
Those of you who know me, or have followed this blog for any length of time, are well aware of my fundamental beliefs regarding training. I KNOW that the ONLY CHANCE I HAVE for a great experience is to be as functionally STRONG as I possibly can be. I do not have the option to conservatively build a long run. There simply isn't time for a "smart" progression. The success of this endeavor hinges my being stronger than I have ever been, and getting in the key run sessions that will prepare me, progressively, for this ultra run.
As luck would have it, friend and client Tim Mather came in for a session at the lab. Tim had stepped away from "training" to focus on some other life goals, and in the process had let his fitness slip a bit. During his visit, the topic of the R2R2R came up. Tim, being who he is, was absolutely stoked at the idea of doing this run. Over time we talked about the possibility of him joining our group, which has now grown to me, Jon, Jon's sister-in-law, her good friend Pam Reed (yes, that Pam Reed, Badwater's OVERALL winner in 2002 and 2003), and Stewart Erskine, one of the other crew members at Badwater. (Stewart ran the Hardrock 100 the weekend PRIOR TO Badwater).
I knew Tim would be a great person to have on this journey, and I knew his motivations were pure. The one major issue he HAD to overcome was his deteriorated fitness. We planned out how he will build the strength he needs to make this journey a reality. We were honest with each other too. We both agree that among the MOST IMPORTANT aspects of our preparation is the fact that neither of us wants to be the weak link in the group, negatively impacting anyone's experience out there. (You all know what I mean.) Tim was committed to doing the work, so we began with some 1:1 sessions at the lab, which we have continued for some weeks now.
August was simply about upping my game in the strength department, and establishing some consistency in my running. Over the last month, I have had to progress my long run from 2 hours to 2.5 hours to 3 hours. Those runs were a mix of trail and road. I did this specifically because I was very acutely aware of the challenge of doing ALL of the runs on either road or trail. Trails stress the body uniquely (rocks, roots, steep hills, risk of ankle sprain, etc.), and roads have their own unique challenge as well. I decided that a mix, early on, would allow me to keep progressing. My 3 hour run was 14 miles of road running and 1 hr on the trail.
So where am I now in my preparation? This past weekend brought the Pisgah Mountain 50K Trail race adventure that I ran with Tim Mather. We got a chance to experience some "discomfort" and build mental fortitude that we'll need in November. That race report is coming up in the next post, and includes some important takeaways from these months of training for the R2R2R. Stay tuned!