Hello Everyone!
A number of the athletes I coach asked about the difference between testing functional threshold power on the bike indoor versus outdoors. There certainly is a difference between testing on a trainer as opposed to on the road, and the reasons are varied. Here is my perspective. Have a listen.
Podcast: Play in new window | Download
Subscribe: Apple Podcasts | Android | RSS
###
Get our FREE 29-page ebook, Unleash Your Full Potential 101! Like us on Facebook, and be registered to win a free Virtual Gait Analysis (VGA) AND receive 15% off any gait analysis package! Drawing for the VGA to be held in early June.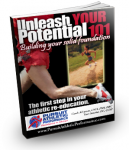 Not on Facebook? No problem! Get your download and register to win here!