Hello Everyone!
It must be spring, as the questions from athletes are focusing more on the finer points of training and racing. Good stuff!
In today's audio post, I discuss my thoughts about that line between dragging too much weight up the hills vs. becoming so lean that power and speed are compromised. Have a listen and tell me what you think.
Podcast: Play in new window | Download
Subscribe: Apple Podcasts | Android | RSS
###
Get our FREE 29-page ebook, Unleash Your Full Potential 101! Like us on Facebook, and be registered to win a free Virtual Gait Analysis (VGA) AND receive 15% off any gait analysis package! Drawing for the VGA to be held in early June.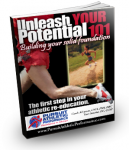 Not on Facebook? No problem! Get your download and register to win here!