Hello all!
Recovery is such an important topic for endurance athletes. I am very careful with the athletes I coach to be sure they not only work hard to achieve their goals, but that they also learn to recover well from hard training sessions and racing. Part of the training I prescribe includes regular and ongoing personalized functional strength work in order for my athletes to work from a body that is durable and resilient. This is immensely important to not only reaching athletic potential, BUT also to essential to proper recovery. My athletes, I'm happy to say, race regularly, reach incredible goals, AND come back to train and race year after year.
This audio is a general conversation about issues relating to recovery. I talk about stress in its many forms--training, nutritional, adrenal, etc.--and how all of it impacts the ability to recover. Does diminished soreness mean you are recovered from that long race? With so many of you gearing up for your A races of the season, it's a good time to revisit issues related to this important topic.
Podcast: Play in new window | Download
Subscribe: Apple Podcasts | Android | RSS
Coach Al
###
Get our FREE 29-page ebook, Unleash Your Full Potential 101! Like us on Facebook, and be registered to win a free Virtual Gait Analysis (VGA) AND receive 15% off any gait analysis package! Drawing for the VGA to be held in early June.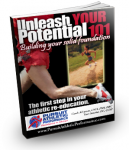 Not on Facebook? No problem! Get your download and register to win here!