Hello Everyone!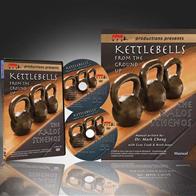 I am really excited to share my thoughts on two fantastic, new kettlebell instructional DVDs–Kettlebells from the Ground Up – The Kalos Sthenos, and Kettlebells from the Center – Dynami, by Gray Cook, co-creator of the Functional Movement Screen, and Brett Jones, RKC. No two people on the planet are better equipped to teach basic, but essential, foundational kettlebell skills. And these DVDs are nothing less than outstanding.
Those of you who work with us know that kettlebells are one of our favorite training tools. Appropriate mobility, true core stability, and functional strength inside a balanced body that is moving authentically is THE KEY TO ATHLETIC SUCCESS, regardless of your sport. Kettlebells are so tremendously powerful in helping create faster, more ballistic, and injury-resistant athletes.
In Kettlebells from the Ground Up, Gray and Brett focus on mastering the incomperable Turkish
Get-up. This move provides no better test of your stability and mobility in all planes of motion on both sides of your body. In Kettlebells from the Center, Gray and Brett guide you through perfecting hip-hinge mechanics, essential for the dynamic kettlebell swing. If you are a runner or triathlete, there is no better movement pattern to train than the kettlebell swing. True hip extension where the glute is the ultimate driver of the movement is a crucial movement pattern to own and master. In the video below, I demonstrate both movements for you.
One cannot overstate the impact Gray Cook and Brett Jones have had in the field of human movement and strength training. These two new videos add to the legend and lore of their reputations, and it is my privilege to present my thoughts on them. I will be doing more writing and reviewing of these two DVDs, and will be sure to share them with you as well.
Coach Al