Can YOU Stay POSITIVE?
"Trust that still small voice that says, this might work and I'll try it."
– Diane Mariechild

"The only thing that stands between a person and what they want in life, is the will to try it and the faith to believe its possible."
– Rich Devos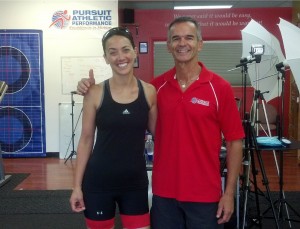 HI Everyone…
This past week I shared some thoughts on our Team Forum on staying positive, despite the seemingly daily challenges which seem to find their way into our lives. Because it was received so well, today I want to also share it with all of you. This is a topic near and dear to my heart: maintaining a positive attitude!
Why today? Like many of you, life seems to be presenting me with lots of challenges these days. Some turmoil in my personal life, and a few other things including the eroding health of someone close to me, all seem to have conspired to bring me down, just a little bit. Maintaining that smile that is usually ever present on my face seems to be just a little more difficult these days. In times like this, especially this year, the first thing I usually think of is our teammate Colleen Alexander. (Colleen is pictured here to the left, with me). She's gone through so much and suffered so greatly, and yet no one I know has a more positive attitude or a bigger smile on a daily basis, then her! Seeing Colleen reminds me that when things look bleak, I have to go back to WHO I am as a person, and what was central in bringing me to this point in my life. And that ONE THING above almost all else, HAS been my positive mental outlook.
Heck, since the days of Norman Vincent Peale (who as I recall from my Eng 107 class at UConn 20+ yrs ago, felt that a positive mental attitude was so vital for success and achievement that he abbreviated it as PMA), we have known that perhaps, this IS the single most important difference between winners and "losers" in life.
I DO believe that a positive, optimistic attitude will over-come any obstacle, solve any problem, and keep us going no matter what. It is essential to be your best!
And who doesn't want to be positive, optimistic, cheerful and hopeful? Consider the alternatives! We all want to be confident, happy, and eager to move "full speed ahead" at all times. But it CAN be difficult.
We live in a world of "bad news" and hard times. Negative people and painful circumstances surround us much of the time. The news is filled with trauma and tragedy. I remember a saying I once heard about this – "into every life a little rain must fall."
Buddhists believe that suffering is an essential part of our existence. And there's Murphy's Law that, "if anything can go wrong, it will." (Wasn't Murphy an optimist?) So, what's a positive person to do?
With all that's been going on in my own life these days, I've thought a LOT about "what's a positive person to do?" Like you, I struggle at times and realize that even when I try, sometimes frustration, discouragement and sadness "pile up," and I even find myself wanting to throw in the towel at times. So the big question I have to ask myself is, "HOW can I stay positive when there's such negativity around me and even in me?"
Here are a few thoughts that I have revisited more these days, which I would love to share with you:
1. Decide to be positive, no matter what. The first step to maintaining a positive mental attitude is the basic fundamental decision to be and stay positive, no matter what! Clarity is power and being clear about who we are and how we choose to live is the first step. Many people "try" to be positive but only a few consciously and consistently commit to being positive. Be one of the positive few.
2. Surround yourself with Positive Stuff. Read inspiring and up-lifting books. Listen to motivating audio programs. Attempt to fill your world with beauty and love. Put helpful posters in your office. Spend time HELPING others! This is HUGE for me! It always lights up my life to be able to help someone else in a meaningful way. Again, surround yourself with positive stuff, all day, and every day.
3. Avoid the negative. In the 24-hour news cycle we can get caught up in the daily dose of bad news but do NOT do it! Limit news and refuse to gossip. Refuse to be with whiners and complainers. If you fill your life with negativity (economic, political, whatever) it undermines your positive outlook. Refuse to do it!
4. Use positive affirmations. You know this is a big one for me, especially on the race course and in training on a daily basis. Well, it works for life, too! So the key is, remind yourself of what you want, where you're going, who you are and what you love. "We become what we think about all day long" so affirm the best that is in you.
Remember: affirmations work best when they are TRUE. Affirming "I'm going to win the lottery this month" is silly, but affirming that "I have done the work and I AM going to have a great race" or "I am honest, ambitious, and successful" is powerful, positive and effective. Affirm the best and repeat it all day, every day.
5. Celebrate every day. Celebrate your wins, every day! The sun came up one more time! You are alive! You are loved! We have so much TO be thankful for! Life has made us strong, creative, courageous and determined! These are worth celebrating. Give thanks often. Practice your own personal "happy dance" every chance you get. Pat yourself on the back for every victory! This helps me a lot!
6. Focus on your goals. Think about what you want, the life you are creating, the possibilities in front of you. Goals and affirmations make life worth living so focus on these things! Think about the races in your future, the new things you will learn about yourself along the way, and the life you are building – the legacy you are creating – the value you add to this world, and IF YOU DO, you can't help but be positive!! You are a unique and wonderful gift to this small planet. Think about what you can and will do with your life!
So you know, just typing all of this out has me feeling much better. I'm going to let others worry and fret the small stuff! I'm going to let others wine and complain. I am still breathing, still working, still making a difference. I'm going to focus on these things and let my Positive Mental Attitude soar, and I hope and pray you will do the same!!!
Make it a great day!
- Coach Al